US Congress approves lifeline for African clothing workers
The U.S. Congress voted on Thursday to renew a trade measure supporting hundreds of thousands of jobs in Africa's clothing sector, just two months before the measure expires.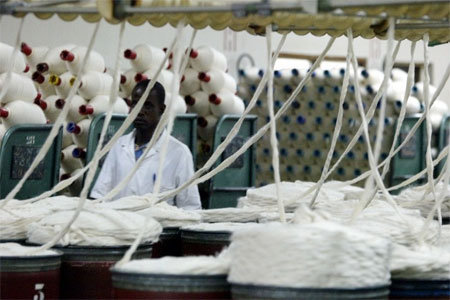 Textile factory in Ivory Coast / Photo AFP
Both the Senate and the House of Representatives approved the legislation on a voice vote, sending it to President Barack Obama to sign into law.
U.S. Trade Representative Ron Kirk, who heard pleas for action on the bill last month at a clothing factory in Ghana that makes medical scrubs for Wal-Mart, said Obama was ready to sign it "as soon as it reaches his desk."
"The African apparel industry, which has been hammered in the last few months with uncertainty about extension of the (trade) provisions, can breathe a sigh of relief," said Representative Charles Rangel, a Democrat.
The African Growth and Opportunity Act (AGOA), first passed by Congress in 2000, allows eligible countries in sub-Saharan Africa to ship thousands of goods to the United States without paying import duties.
A provision that expires Sept. 30 waives duties on clothing from most AGOA countries, even if the yarn or fabric is made in a "third country" such as China, South Korea or Vietnam.
It provides sewing jobs for hundreds of thousands of African workers, about 70 to 80 percent of whom are women. The legislation extends the provision through 2015 and also makes the new country of South Sudan eligible for AGOA benefits.
"The apparel industry has been a major driver of employment growth in Africa under AGOA. In Lesotho alone, jobs in the textile and apparel industry have more than doubled - growing from 19,000 to 45,000 - because of AGOA," said House Ways and Means Chairman Dave Camp, a Republican.
The congressional action comes as U.S. Secretary of State Hillary Clinton in is Africa on a seven-nation tour, partly to promote the United States as an alternative to China's growing economic and political influence in the region.
Development organizations have watched for months with frustration as the Obama administration was unable to get Congress to act on the African trade provision.
"Even now, factories across Africa are shedding jobs left and right, because U.S. retailers place their orders months in advance and there is grave concern over Congress' ability to get its act together and renew the provision," Melvin Foote, president of Constituency for Africa, wrote in May.
Foote blamed the delay on partisan bickering and jockeying for position over the legislation, which also renews U.S. sanctions on Myanmar for three years and adjusts certain textile provisions of a free trade pact with Central America.
"The man in the river is drowning, and our lawmakers are checking their blackberries to see if someone else will throw the line first," Foote said at the time.
In June, African officials attending an annual AGOA forum repeatedly pressed Kirk, the U.S. trade representative, on when the United States would renew the provision.
"I'm not proud of where we are," Kirk told the officials during an event at the Brookings Institution, blaming the delay on "partisan politics."
© Thomson Reuters 2023 All rights reserved.