US retail stocks fall; gas prices weigh on shoppers
By Aarthi Sivaraman
NEW YORK (Reuters) - Retail stocks fell on Tuesday 16 June after a report showed that shoppers went back to spending cautiously as gasoline prices inched up across the United States, resulting in weak retail sales.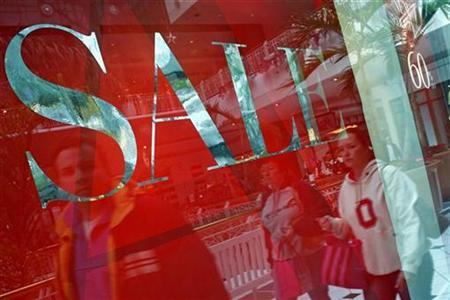 The Standard & Poor's Retail Index .RLX fell 3.2 percent, while the broader S&P 500 Index .SPX was down about 1 percent.
A report from the International Council of Shopping Centers and Goldman Sachs showed that retailers' sales for the week ending June 13 fell 1.5 percent from a year ago, or 0.6 percent from the prior week, which ended June 6.
"Consumers scaled back their spending over the last week as rising gasoline prices -- the highest since October 20, 2008 -- and unfavorable weather added to their cautiousness," ICSC chief economist Michael Niemira said in the report.
Average gasoline prices were up 2 percent over the week at $2.67 on Tuesday 16 June. That is an increase of 16 percent from a month ago, but down about 34.5 percent from a year earlier.
ICSC expects June sales at stores open at least a year, excluding those of Wal-Mart Stores Inc (WMT.N), to show a decline of about 5 percent after falling 4.6 percent in May, Niemira said.
Consumer spending has been lackluster as the recession, job losses, the weak housing market and tight access to credit impede people's ability to spend. Retailers have struggled as shoppers reserve their money for essential items such as groceries, favor discount retailers, or only buy merchandise at deep discounts.
Stocks of department stores such as Saks Inc (SKS.N), Macy's Inc (M.N) and J.C. Penney Co Inc (JCP.N) each dropped about 6 percent or more. Shares of apparel retailer Chico's FAS (CHS.N) fell 7.9 percent, Abercrombie & Fitch (ANF.N) was down 5 percent and Gap Inc (GPS.N) slid 2.9 percent.
The sell-off was not as steep for discount retailers and dollar stores. Target Corp (TGT.N) fell 3.8 percent and Wal-Mart declined 0.5 percent, while Family Dollar Stores Inc (FDO.N) dropped 1.1 percent and Dollar Tree Inc (DLTR.O) slipped 1.8 percent.
Meanwhile, electronics retailer Best Buy Co Inc's (BBY.N) stock fell 6.6 percent after it posted lower first-quarter earnings, and implied earnings for the rest of the year would be worse than forecast.
Best Buy said it gained market share after rival Circuit City shut its doors, but has faced increased pressure from Wal-Mart and others which have added items like flat-screen televisions to their stores.
"If Best Buy continues to struggle given that they just had one of their primary competitors taken out of the market, it makes you wonder," said Ken Perkins, president of research firm Retail Metrics.
(Reporting by Aarthi Sivaraman; Additional reporting by Ian Sherr and Jessica Wohl in Chicago; Editing by Richard Chang)
© Thomson Reuters 2022 All rights reserved.