US retailers put off spring buying
By Alexandria Sage
LAS VEGAS (Reuters) - Cautious apparel buyers are foregoing orders to be delivered months down the road and instead are buying for the moment, unwilling to take on excess inventory and unsure over what the future holds.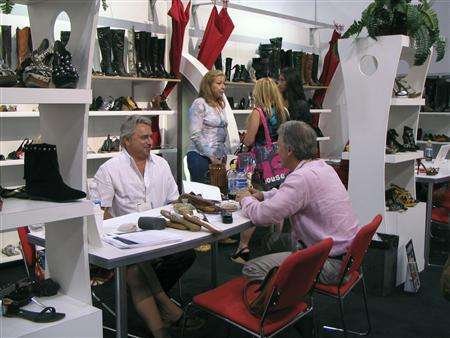 At the Magic Marketplace apparel trade show in Las Vegas, the largest such convention in the United States, apparel vendors and the retailers that sell their styles agreed that placing orders in August for spring is the exception, rather than the rule, in a sharp change from recent years.
The reason is insecurity over inventory levels in a difficult U.S. retail environment, where shoppers have curtailed spending on items such as apparel and footwear amid other more pressing concerns, such as higher gasoline and food prices.
"With the difficulties in the economy, stores seem to want to buy closer to their needs ... rather than buying six to nine months ahead," said Donald Leavy, vice president of sales and marketing at Vintage Paris.
At the company's booth, clothes on display included a puffy, short black jacket, a chunky sweater and a leopard trench coat -- all appropriate for fall or winter, not spring.
Retailers, aware that too much unsold product in their stores leads to liquidations and lower profit margins, aren't taking a gamble on styles that may or may not succeed next spring. "At-once" orders, however, are delivered far sooner, when the retailer has a better take on the pulse of the consumer.
David Wolfe, creative director of retail consultancy The Doneger Group, argued that the delivery calendar that vendors follow is out of whack.
Fall products are usually delivered in August or September, when the weather is still warm, meaning that customers are presented with scarves and outerwear when they're still thinking about shorts and sundresses.
"If we started delivery when the customer wants it, she might actually pay full price," Wolfe said during a presentation to retail buyers.
The difficulty of knowing how much to stock has played out this quarterly earnings period, as publicly traded retailers posted a range of inventory levels, from the 17 percent decline per square foot at Gap Inc , one of the largest global apparel retailers, to the 3.7 percent inventory decline at department store Macy's Inc .
"With fall and back-to-school in full swing, and inventory levels seasonally high, we believe retailers remain on edge," wrote Brean Murray Carret analyst Eric Beder in a note published Monday.
Sometimes, paring back inventory goes too far, as in the case of women's apparel retailer Bebe Stores Inc , which recently blamed declining same-store sales in part on too-light inventory levels.
And if retailers are too cautious, buying "at-once" orders helps them quickly fill emptying shelves, when they are better attuned to what their customers want -- now.
"We felt people under-bought," said Margaret Cox, who represents the Los Angeles-based Christine Phillipe line of women's clothing. "Now they're here saying, 'What can I have now?"'
Immediate orders help retailers avoid the embarrassing phenomenon of having yesterday's trends in their stores.
"This is exactly as if you are buying milk or bread. It has an expiration date," said Kambiz Hakimi, owner of the Mesmerize brand, waving his arm in the direction of the bold animal print and tribal design dresses for fall or holiday that he sells to department stores, catalogs and boutiques.
But perhaps the biggest challenge arises when your market suddenly leaves the country. Buyers at the Naval Exchange, responsible for stocking everything from T-shirts to suits at stores on Naval bases, are sometimes confronted with mass deployments and are forced to move inventory around the country to bases with fewer deployed service members.
"Sometimes we get a week's notice," said buyer Donald Jeresa.
(Reporting by Alexandria Sage, editing by Peter Henderson, Richard Chang)
© Thomson Reuters 2023 All rights reserved.