US retailers running out of room to cut costs
By Dhanya Skariachan - Analysis
NEW YORK (Reuters) - U.S. retailers, which have banked heavily on cost cuts to guard margins in the recession, may be running out of ways to trim expenses further -- putting future profits in jeopardy, unless consumers open their wallets soon.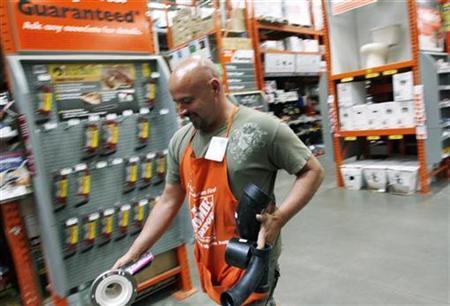 "No company on the face of the earth can cost-cut its way to sustained success ... You need to have sales," Home Depot Inc (HD.N) Chief Financial Officer Carol Tome said in an interview this week.
From slashing jobs to shuttering stores, from maintaining leaner inventories to negotiating for lower rents, retailers seem to have done it all to preserve profits or mitigate losses in a dismal sales climate.
Some have outlined plans to postpone expansion, reduce advertising and wind down secondary brands, while a few others have gone a step further and found more creative ways to cut costs.
Home improvement chain Home Depot has made significant cost savings by using less energy in its stores. Some companies that deliver office products to retailers have started using new technology in their trucks to ensure higher fuel efficiency.
But the cost cuts can only go so far, as retailers see sales slammed by the recession.
"Retailers are very closely looking at costs now and I think today they are ahead of the curve ... I think that the costs will be out of companies ... I don't think revenues are going to come back as quickly," said William Susman, president and chief operating officer of retail investment bank Financo.
One way retailers are cutting costs is by streamlining their supply chains and purchasing.
Womens' apparel retailer AnnTaylor Stores Corp (ANN.N) said it has gone from about 100 apparel vendors at the end of 2008 to about 75 in the first quarter and will continue to try to cut down on vendors for its Ann Taylor and Ann Taylor LOFT stores.
Both analysts and investors laud the cost-cutting efforts, as they think retailers are facing the question of survival more than anything else right now.
"The retailers who haven't done this (cut costs) ... some of them who have not successfully been able to offset sales declines ... have not survived," Colin McGranahan, an analyst at Sanford C. Bernstein, said.
"We have seen Circuit City, Linens 'n' Things, Mervyns go out of business and many retailers that are going bankrupt."
The companies that have responded well -- those which have cut costs and have better consumer propositions -- will emerge winners at the other side of this economy, McGranahan said.
"Retailers need to adapt to the environment. They need to bring their costs down because the customer is not buying as much," Financo's Susman said, adding: "When the market rebounds, they should also be poised for much greater profitability."
So, how much more can they can slash and burn? Not much, most agree.
"You can only trim so much. If you go into one of the LOFT stores -- there's not that much clothing on the racks, there's not that many racks to begin with, and there's not that many associates working in the stores. You can tell they've cut back," Wall Street Strategies analyst Brian Sozzi said.
"So how much fat do you have left to cut? And the first round of store cuts for them -- that was low-hanging fruit ... But what about the rest of the stores?" Sozzi said.
"I'm very curious to see how the second half plays out for these guys (retailers), because at some point, you have to make a bet on inventory; and if demand's not there, we could be talking about earnings misses in the fourth quarter like we saw last year," he said.
Bernstein's McGranahan named Best Buy Co Inc (BBY.N), Staples Inc (SPLS.O) and Home Depot as good examples of companies which have cut costs in an aggressive but intelligent fashion.
Although most experts see sense in cost-cutting efforts at retailers, many warned the moves should be executed with caution.
"They have got to be careful how much they will cut of their staffing levels ... If people can't get help in stores, that is a recipe for retail disaster," said Britt Beemer, founder of America's Research Group, which polls consumers on spending behavior.
Beemer's concerns aren't unwarranted.
Denise C, a 27-year old from Queens shopping in midtown Manhattan, walked out of a couple of apparel stores because she was disappointed with the quality of in-store service.
"People just don't really seem to care anymore" she said.
(Additional reporting by Martinne Geller, editing by Gerald E. McCormick)
© Thomson Reuters 2023 All rights reserved.