US September retail sales disappoint
By Aarthi Sivaraman
NEW YORK (Reuters) - U.S. retailers posted disappointing September sales on Wednesday, hurt by a global financial crisis that prompted shoppers to turn frugal and raised concerns of an even weaker holiday shopping season.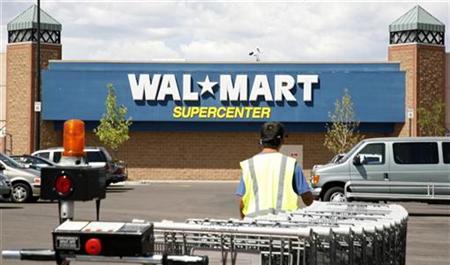 Department stores, particularly those catering to luxury shoppers such as Saks Inc , suffered the most in the month and many of the top chains cut their earnings forecasts.
Even discounters such as Wal-Mart Stores Inc and warehouse clubs such as BJ's Wholesale Club Inc fell short of Wall Street expectations, although they are still expected to benefit as cash-strapped consumers seek out their low prices.
Nearly 74 percent of retailers who reported same-store sales results on Wednesday missed expectations, based on reports from 20 companies, according to Thomson Reuters data.
"It's going to be a real tough holiday season and I think that it's prudent of them to come out and lower expectations because nobody really knows what's going to happen in this environment," said Hodges Fund Senior analyst John Langston.
Based on retailers who reported on Wednesday and estimates for others yet to post results, Thomson Reuters said overall same-store sales are on track to show a 1 percent rise, below its initial forecast of an overall increase of 1.5 percent.
Specialty apparel retailers due to report on Thursday are mostly expected to post declines in same-store sales.
Looking ahead, October sales are expected to rise 1.5 percent to 2.5 percent, with tough economic conditions persisting, the International Council of Shopping Centres said.
The gloomiest forecasts have forecast holiday sales could be the weakest in up to 17 years.
The Standard & Poor's Retail Index .RLX closed down 0.9 percent. Wal-Mart closed at $54.55, down 0.5 percent, while Saks fell 13 percent to $6.24.
A TURNING POINT?
For months, consumers have sought deals for staples such as food and fuel as they battled higher prices, a housing market slump, job losses and a credit crunch.
Many balked at spending in September as the financial crisis deepened, with several big U.S. financial companies failing or accepting shotgun buyouts.
"Nobody knows how much worse the economy is going to get," said Morningstar analyst Joseph Beaulieu.
Coordinated interest rate cuts from global banks added to volatile trading in the sector on Wednesday. Still, the shares of discounters and warehouse clubs did not suffer as much, indicating some investors may consider them a better bet.
"The wholesale clubs and discounters are still the safest place to hide your money if you're an investor in this environment," said Telsey Advisory Group analyst Joseph Feldman.
During the month, shoppers largely preferred discounters such as Wal-Mart and warehouse clubs such as Costco Wholesale Corp and BJ's for necessities such as food and fuel.
Wal-Mart posted a 2.4 percent increase in September sales at stores open at least one year. Analysts had expected a 2.5 percent increase, according to Thomson Reuters Estimates.
Wal-Mart, the world's largest retailer, stood by its third- quarter profit forecast of earnings of 73 cents to 76 cents per share from continuing operations.
Rival Target Corp posted a worse-than-expected decline of 3 percent in same-store sales. Target warned its third-quarter earnings could miss the median estimate of 52 cents per share.
Costco posted a 7 percent jump in same-store sales, while rival BJ's posted a rise of 10.4 percent. Both companies still trailed expectations.
Teen retailer Aeropostale Inc beat expectations with a 5 percent rise in same-store sales and reaffirmed its earnings forecast. The retailer has outperformed rivals this year due to its lower-cost offerings.
DEPARTMENT STORES LANGUISH
Department stores continued to suffer in September, as consumers shunned items such as clothes and accessories, forcing retailers to cut earnings or sales forecasts.
Same-store sales at J.C. Penney Co Inc fell 12.4 percent, much worse than the 9.9 percent drop analysts had expected. Penney cut its third-quarter earnings and sales forecasts.
Not even upscale stores were spared. Same-store sales fell more than expected at Saks and Nordstrom Inc -- 10.9 percent and 9.6 percent, respectively. Both cut their forecasts and signalled that economic fears were taking a toll on affluent shoppers.
Menswear felt the pinch, too, as Men's Wearhouse Inc cut its forecast and its shares fell 9 percent after hours.
Same-store sales at Pacific Sunwear of California Inc fell 5 percent. It now expects third-quarter earnings at the low end of its previous forecast due to more markdowns.
Other worse-than-expected results came from rival teen retailer Wet Seal Inc , which saw a 7.5 percent drop in same-store sales and from Children's Place Retail Stores Inc , where sales were flat.
(See here for SHOP TALK -- Reuters' retail and consumer blog)
(Additional reporting by Nicole Maestri and Alexandria Sage; editing by Gerald E. McCormick and Andre Grenon)
© Thomson Reuters 2023 All rights reserved.