US Trade Representative Kirk opposes bill to cut shoe import tax
WASHINGTON, March 12 (Reuters) - The top U.S. trade official said on Friday 12 March he opposed a bill to eliminate import taxes on shoes and other footwear because it would benefit another country too much.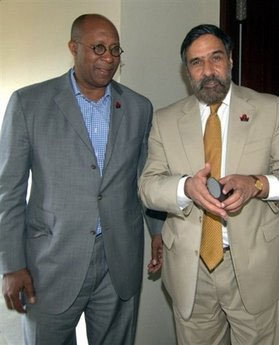 US trade representative Ron Kirk (left) - Photo: AFP/Sonny Tumbelaka
U.S. Trade Representative Ron Kirk, in remarks to the American Apparel and Footwear Association, did not identify the country, but an industry official said it was clear he was talking about China.
"We estimate ... almost $1.2 billion of the $1.5 billion of the tariff reduction would go to one country alone. It's easier for me to get Congress to swallow this in a context of a broader balanced (world trade) agreement," Kirk said.
Close to 99 percent of the shoes sold in the United States are produced overseas, many of them in China.
Supporters of the Affordable Footwear Act, offered by lawmakers last year in the both the House of Representatives and the Senate, say it would save Americans billions of dollars in hidden taxes and price markups.
"No one argues with the logic of it. But in the broader balance, are you just going to grant (another country) that unilateral concession" without gaining something in return in the Doha round of world trade talks, Kirk said.
That drew a quick dissent from Kevin Burke, president of the apparel and footwear trade association.
"There is no question that the only country that benefits from the Affordable Footwear Act is the United States and the hard-working Americans that buy shoes for themselves and their children," Burke said in a statement.
"China doesn't pay the tariffs. American companies and American consumers do. The duties eliminated under the Affordable Footwear Act don't protect any U.S. footwear manufacturers," Burke said.
The Doha round, launched in late 2001, has dragged on for over eight years. Earlier this week, Kirk said he would not put too much stock in a goal set by world leaders to finish the talks in 2010 because of difficulties in the negotiations. (Reporting by Doug Palmer; Editing by Eric Beech and Philip Barbara)
© Thomson Reuters 2023 All rights reserved.