Watch industry gasps for cash
By Astrid Wendlandt and Katie Reid
PARIS (Reuters) - The Swiss watchmaking industry will hit a trough in the early autumn and could take up to three years to climb back to its 2008 peak, luxury timepiece maker Parmigiani Fleurier said on Tuesday 9 June.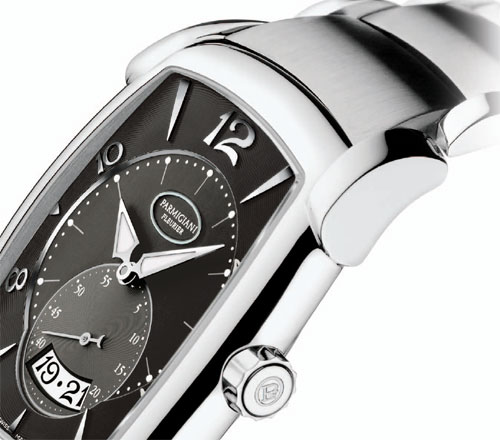 Parmigiani Fleurier
Parmigiani, which competes with Patek Philippe and Richemont's Lange & Soehne (CFR.VX), said it was concerned about retailers sitting on unsold stock and running out of cash, as well as small watch workshops closing down.
"The worst is still ahead of us," Parmigiani Chief Executive Jean-Marc Jacot told the Reuters Global Luxury Summit in Paris.
"I hope the trough will be reached in the autumn. It will take two to three years to come back to the level of 2008, when (the industry) reached a peak."
Parmigiani's hand-made watches, which take two years to complete, start at 10,000 Swiss francs ($9,158) and can fetch over 1 million. Customers include the Sultan of Oman, fashion designer Giorgio Armani and former Ferrari boss Jean Todt.
Jacot, who is on a first-name basis with many watch industry leaders, said he did not know of a single Swiss watchmaker that was not suffering and added that Parmigiani had seen its turnover fall 20 percent since January at constant currencies.
"The problem is distributors. They have no money, they are starving cash and cannot spend any money at all on stock," Jacot said. He did not expect business to pick up before the crucial pre-Christmas season when watchmakers make the bulk of sales.
"You have a lot of small workshops that could run into problems, and if they close, it would be bad for the industry," he said.
Jacot, who has been at the helm of Parmigiani Fleurier for a decade, has been in the watch industry for 35 years and was behind the launch of Cartier (CFR.VX) watches in the 1970s.
He built up watch brand Ebel and helped sell it to Bahrain's Investcorp INVB.BH (INVBq.L) in the 1980s, which in turn sold it to LVMH (LVMH.PA). Ebel is now in the hands of U.S. retailer Movado (MOV.N).
Parmigiani is 90-percent controlled by one of Europe's wealthiest families, the Sandoz, who co-founded pharmaceutical group Novartis (NOVN.VX), in which its foundation still holds a 3 percent stake.
The Sandoz Foundation also owns 75 percent of watch movement supplier Vaucher Manufacture Fleurier, of which French luxury group Hermes (HRMS.PA) acquired 25 percent for 24 million Swiss francs in 2006.
EASTERN EXPANSION
Vaucher supplies Parmigiani and provides watch movements to Hermes, Richard Mille, Bulgari (BULG.MI) and Corum. Hermes provides Parmigiani with leather watchstraps. Vaucher also sells screws, wheels, dials and cases to Richemont's Cartier and IWC.
Parmigiani, with one shop in Dubai, plans to open stores in Moscow and Istanbul, as well as in China "as soon as possible."
"Today, we are thinking more and more of setting up our own distribution network," Jacot said. "But we only want to open shops in the Eastern world, not in Europe."
Jacot would not reveal 2009 sales figures but expected it to break even at the net level, producing close to 4,000 watches.
Parmigiani was founded over 30 years ago by Michel Parmigiani, a specialist in watch restoration for museums and collectors. With backing from the Sandoz family, the brand was created some 12 years ago at the very high end of the market.
The company sells its watches mainly through its own network of individual private and exclusive retailers such as Harrods.
($1=1.092 Swiss Franc)
(Editing by James Regan)
© Thomson Reuters 2023 All rights reserved.