Weaker retail sales, jobs surveys raise risk of longer slump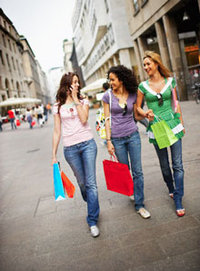 Photo: Corbis
LONDON - British retail sales posted their biggest fall in more than a year last month and growth in the number of people placed in permanent jobs in Britain slowed, raising the risk of another quarter of economic contraction.
The bleak news from retailers will further complicate the Bank of England's decision on Thursday on whether to give another cash boost to the economy, which slipped into recession at the beginning of the year.
The central bank faces the dilemma of balancing weak growth with stubbornly high inflation.
The British Retail Consortium said on Wednesday that like-for-like retail sales - or sales at stores open for at least a year - plunged by 3.3 percent in value terms compared to April 2011, following a 1.3 percent rise in March.
The reading, the weakest since March last year, confounded analysts' forecasts for a 0.5 percent increase.
Stephen Robertson, BRC Director General, said the wettest April since records began had hurt sales of summer clothing and outdoor products, while a long Easter weekend early in the month meant that some Easter shopping was shifted into March.
Shopping in March received an extra boost from unusually warm weather, which contributed to the biggest increase in British retail sales in more than a year, according to the latest figures from the Office for National Statistics.
"It would have been difficult for this April to outperform April 2011 even with favourable weather, but these numbers are still disappointing," Robertson said.
"April last year was boosted by the royal wedding and the accompanying extra day off for people to shop or celebrate."
The value of total retail sales, a measure favoured by economists and closer to that found in official statistics, was 1 percent lower on the year, after a 3.6 percent rise in March.
"While May will certainly be brighter than April, the health of the retail sector continues on a downward trajectory," said Helen Dickinson, Head of Retail at consultancy K PMG, which sponsors the BRC survey.
A poll by the Confederation of British Industry also showed late last month that, while sales volumes dropped in April from a year earlier, British retailers reported the best outlook for the following month's sales in more than a year.
The latest survey for KPMG and the Recruitment and Employment Confederation (REC), which represents recruitment agencies, reflected similar month-to-month volatility in economic data, highlighting the economy's precarious state.
The REC said the number of permanent staff placements in Britain rose in April at the slowest pace since January, with the relevant monthly index ticking down to 51.9 from 52.4 in March. Readings above 50 indicate growth.
However, in a sign that jobseekers may fare better in the coming months, overall vacancies maintained the pace of growth recorded in March - the strongest since last July.
"During 2011, employers made do with the staff they had," said REC Chief Executive Kevin Green.
"Confidence has grown sufficiently for organisations to make the positive decision to take on more staff. This growth is fragile though, and reports of a double-dip re cession and crises in the euro zone could have a negative impact on that confidence," he added.
April surveys of purchasing managers showed slower growth across British services, manufacturing and construction sectors, indicating a weak start to the second quarter of this year after the economy shrank between last October and March.
© Thomson Reuters 2023 All rights reserved.