Will rebranding efforts revive Bebe?
By Renju Jose
BANGALORE, July 17 (Reuters) - Recent initiatives by Bebe Stores Inc (BEBE.O) to jump start its business may not be enough for those who blame the retailer's recent sales slump on its relatively high prices and a limited focus on its core brand.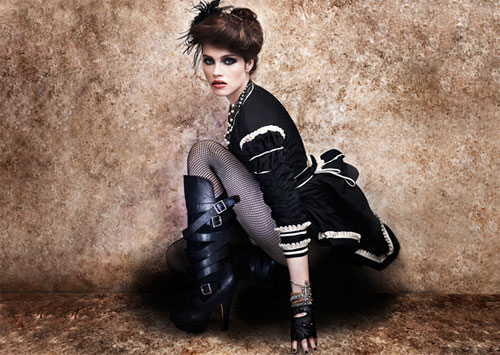 Bebe Fall 2009
Shares of the Brisbane, California-based women's apparel retailer have fallen 25 percent in the last two months, indicating some skepticism on Wall Street, even as three analysts continue to recommend a "buy" on the stock.
Seven other analysts have a "hold" rating, while two have a "sell" or "underperform" rating on the stock, according to Reuters Estimates.
So will the brand repositioning help Bebe's shares? Or will its pricing strategy continue to weigh on the stock?
TRANSITION PHASE
"It is a turnaround situation and that makes (Bebe) somewhat speculative because the business is not strong at the moment, and so you are betting that it can be fixed," B. Riley analyst Jeff Van Sinderen told Reuters.
A bet that Van Sinderen -- who has a "buy" rating on the stock -- is willing to make. But given that Bebe is in the middle of a transition phase, he expects that it will take a while longer before everything gets back on track.
On Tuesday 14 July, the retailer said it will convert its 62 existing Bebe Sport stores into PH8 stores -- a new retail concept -- that will sell "active street wear and performance products."
"They are modifying the business and they are looking and making corrections based on what is working and what is not," Van Sinderen said.
FIX THE CORE BRAND
Needham & Co analyst Christine Chen said Bebe "needs to fix the core bebe (brand) first" as the other businesses are small when compared to its namesake label.
"But it is good that they are looking to make some changes because clearly they were having a difficult time", she said.
The analyst, who has a "hold" rating on the stock, said Bebe could possibly skew their assortments to more affordable levels to improve sales, while still having distribution that includes higher price-points.
"But I don't think they will try and compete as a cheap fashion retailer," Chen told Reuters by phone.
NEED MORE FOR LESS
"It appears that one of the biggest issue for (Bebe) remains the need for more fashionable merchandise and competitive pricing that could drive better sales," Wedbush Morgan Securities analyst Betty Chen told Reuters from San Francisco.
This has led to Bebe losing a lot of its shoppers to other fast-fashion retailers like Forever 21 and H&M (HMb.ST), Chen said.
The analyst, who has an "underperform" rating on the stock, however, said if Bebe lowers the prices "too much", it could affect its brand equity and dampen margin recovery.
And the retailer is also getting squeezed from the top.
Standard and Poor's equity analyst Marie Driscoll, who rates the stock a "sell," said Bebe's sales were taking a hit from department stores selling luxury and contemporary merchandise "at close to moderate price points." (Editing by Anthony Kurien)
© Thomson Reuters 2023 All rights reserved.