World's best dressed of 2009 give tips on bargain buys
NEW YORK (Reuters Life!) - U.S. presidential couple Barack and Michelle Obama, Brad Pitt and French first lady Carla Bruni-Sarkozy all made the cut for an annual list of the world's best dressed -- and gave a few tips on where to find bargains.
Vanity Fair magazine's International Best-Dressed list, now in its 70th year, included the U.S. President for the first time although the U.S. first lady has made the list three times.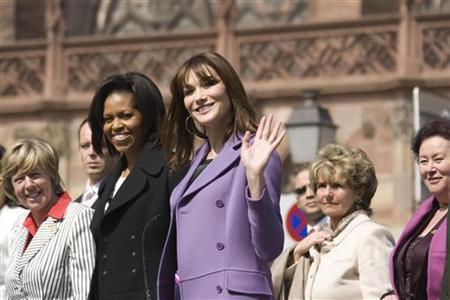 Obama joined actors Brad Pitt and James Bond star Daniel Craig, financier Arpad Busson, and artist Cy Twombly on the list of the world's 10 best-dressed men.
Some women making their debut in the annual list were actresses Penelope Cruz and Anne Hathaway, TV host Kelly Ripa, and singer Alicia Keys -- while Pitt's partner actress Angelina Jolia missed out this year after two years on the list.
They joined private banker Lizzie Tisch, Sheikha Mozah of Qatar, writer Kathy Freston, and Princess Letizia of Asturias, wife to the heir to the Spanish throne, on the list of 10 best-dressed women.
The best dressed couples included New York Mayor Michael Bloomberg and girlfriend Diana Taylor.
Honourees to the Best-Dressed List Hall of Fame were actresses Renee Zellweger and Catherine Deneuve, L'Oreal principal shareholder Liliane Bettencourt, art adviser Count Manfredi della Gherardesca and entrepreneur Lapo Elkann.
As in previous years, the honourees were asked who their favorite designers were and to describe their personal style.
But this year, to reflect the ongoing global financial crisis and to prove that being fashionable doesn't have to cost a fortune, candidates were asked where they bag bargains. Michelle Obama, 45, who has won acclaim for her fashion style and mixing high and low-end pieces, cited American clothier J. Crew as a good spot to bag bargains.
Princess Letizia of Asturias, 37, in a nod to Spanish patriotism, mentioned the Spanish fashion chain Zara, Mango and Massimo Dutti.
Kathy Freston said her bargain-hunting favorite was TargetT, Alicia Keys said Barney's warehouse sale, and Lizzie Tisch named eBay.
Meanwhile, Barack Obama said "the Secret Service employees' store." The magazine didn't specify whether or not the U.S. president was joking.
(Writing by Belinda Goldsmith and Reuters Television, Editing by Sugita Katyal)
© Thomson Reuters 2023 All rights reserved.