World's longest catwalk, Copenhagen
To mark the end of Copenhagen's Fashion Week which took place 11-14 August, 220 models jumped onto the 1 mile catwalk that winded around the city centre. The event attracted around 100,000 spectators not put off by the rain.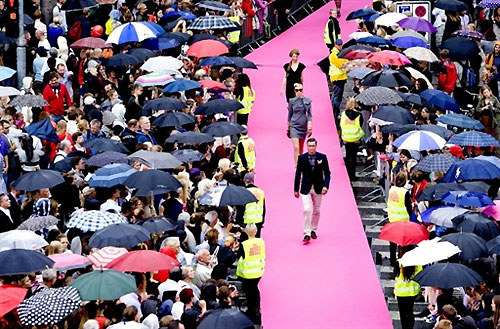 The world's longest catwalk in Copenhagen. Photo : Bax Lindhardt/AFP
This catwalk has gained recognition for being the longest in the world, beating the previous record by 15 metres, set at Thailand's Fashion Week last spring. Danish supermodel Helena Christensen hosted the event while female models paraded this autumn's Scandinavian fashion. Some ended the runway in barefeet, stilettos in hand, flaunting rain-smudged make-up.
Original by Matthieu Guinebault. Translated by Rosie Hart
Copyright © 2023 FashionNetwork.com All rights reserved.