Zen and the art of dressing Gordon Brown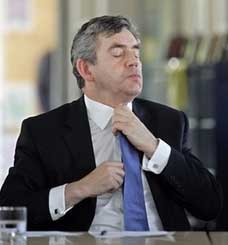 British Prime Minister Gordon Brown attends a meeting of the National Council for Educational Excellence in East London, in July 2007 - Pool/AFP
LONDON, Sept 23, 2007 (AFP) - When British Prime Minister Gordon Brown takes centre stage at his governing Labour Party's annual conference next week, it is a safe bet what he will be wearing.
The 56-year-old politician has rarely been seen out of a crumpled dark suit, slightly too small white shirt and either a red or light blue tie since taking over from Tony Blair on June 27.
He wore much the same thing during his 10 years as finance minister.
But fashion experts told AFP that while uninspiring, Brown's choice of attire is not ill-advised and is even politically expedient, reflecting what he preaches about his "new politics" being more about substance than style.
"It's quite an old-fashioned way of dressing but it's very, very safe," said El Davies, of London-based image consultants Style Doctors. "None of his personality is coming across in what he's wearing, which is what he wants."
And rather than "no style," Bill Prince, deputy editor of British GQ magazine, described Brown as having "non-style."
"He doesn't want any attention to be drawn to what he's wearing. I don't think he wants people to alight on anything other than his message. He's really made his position clear. It's not about flim-flam, it's not about spin...
"I think, fundamentally, he's getting it right," he said.
As Brown increased his media profile over the last year in preparation for his move out of Blair's shadow, clear attempts were made to give the glum-looking Chancellor of the Exchequer a style makeover.
His salt-and-pepper hair was cut shorter; he wore a pink tie on television; he tried to smile more, and he professed a liking for the band the Arctic Monkeys, although the names of any of their songs escaped him.
Yet on a school visit to north-west England, an aide quietly pointed out that one of the finance minister's trouser legs was inexplicably tucked into his sock. His finger nails remain bitten.
Even announcing his candidacy for the Labour leadership in May, Brown still looked as if he had slept in his new Matthew Everest suit, while two transparent autocues partially obscured his face to television cameras.
Blair, whose premiership for critics became a by-word for media manipulation or "spin" and glossy presentation, would never have made the same mistake, observers said.
Now, with Brown ahead of his well-groomed rival David Cameron from the main opposition Conservative Party in the polls, it seems the prime minister's people are trying to turn his often criticised appearance into an asset.
A recent advertising pitch for a contract with Labour showed Brown in his suit with the slogan: "Not flash, just Gordon."
GQ's Prince even suggests Brown's fashion choices -- if out of kilter with current trends -- are "zen-like," as if he had edited life down to a minimum to reduce choice and not confuse people with his style.
Art critics say Brown's choices of government-owned paintings for his Downing Street office and residence were chosen for the same purpose.
Robin Simon, editor of the British Art Journal, told the Mail on Sunday recently the paintings -- most of them landscapes -- were "ruthlessly boring" and "unadventurous," revealing little about his personality.
During Blair's premiership, Brown's often fractious relationship with his boss was often the main focus of attention for the political press.
Since taking over, he has sought to make subtle changes to the business of government, keeping true to the general thrust of Blair's modernising, centre-left agenda but in a more understated, considered fashion.
For Prince, Brown's "anti-Blair stance" is also sartorial.
Unlike Blair -- who in his first six years in office spent more than 1,800 pounds (3,600 dollars, 2,600 euros) of taxpayers' money on cosmetics and make-up artists -- he has done little to hide the deep circles around his eyes and sagging, grey complexion.
"Blair was always keen to be seen if not at the leading edge, certainly at the acceptable end of culture. He spoke long and hard about the irritation with wearing ties, he favoured Paul Smith suits with flashy linings," he said.
"And particularly on holiday he was always seen in rather grotesque knee-length board shorts but Brown has brought it right back to the job in hand. I think everything's fit for purpose at the moment."
Nevertheless, Davies said she would still like Brown to make more of an effort, keeping black, charcoal or even brown suits or adding jeans, cashmere jumpers and blazers to his casual wardrobe -- and getting a haircut.
"Gordon Brown comes across as someone who's a bit more down to earth, a lot nicer and more in tune with the people and his clothes don't reflect that," she said.
That said, Prince warned Brown and his advisers of getting involved in what he called "the battle of the himbo," going down the bare-chested route of Russian President Vladimir Putin or French President Nicolas Sarkozy.
Both were pictured on holiday recently, Putin fly-fishing and Sarkozy kayaking, with or without love handles allegedly airbrushed out of some press photos.
"He would be well advised to stay out of that," Prince said.

by Phil Hazlewood
Copyright © 2023 AFP. All rights reserved. All information displayed in this section (dispatches, photographs, logos) are protected by intellectual property rights owned by Agence France-Presse. As a consequence you may not copy, reproduce, modify, transmit, publish, display or in any way commercially exploit any of the contents of this section without the prior written consent of Agence France-Presses.