Acne prepares its flagship New York store
The high-end Swedish brand, Acne, is keen to keep up appearances. Its avant-garde boutiques are all part of its cutting-edge image - and it will soon score plenty of points in the States in that respect. Just a few months after the opening of its third store in Paris on rue Froissart, considered its flagship French store, the brand is opening another flagship boutique, this time in New York. Acne will open its 4300 square foot store at the end of May on Greene Street in Soho.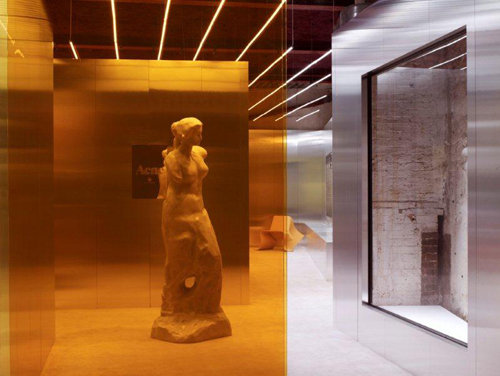 Acne's high design store on rue Froissart, Paris
The brand knows the area well as it already has a store on the same street - albeit a quarter of the size - opened in partnership with Opening Ceremony. But, with the brand's reputation having grown since then, it will be closed down once the flagship store is ready to take over.
The brand's creative director, Jonny Johansson, is passionate about design and has come up with a surprising new design concept that will be different in each store. All that the new store will have in common with the boutique on rue Froissart, Paris, is the aluminium signs – the strong colours, layout of the spaces and fittings being unique to each store.
His aim is to bring a touch of Stockholm to New York, with the historical influences of the Gustavian era but also the city's bright colours: green, sky blue, white and urban black. Jonny Johansson will also transform the Swedish capital's fragmentation, being as it is divided up into islands, into a design concept.
Acne, which today has around thirty stores around the world, will be in good company alongside labels like Isabel Marant and Alexander Wang.
Copyright © 2023 FashionNetwork.com All rights reserved.