Adidas outlook disappoints, World Cup boost limited
HERZOGENAURACH, Germany (Reuters) - Adidas (ADSG.DE), the world's No. 2 sports goods maker, is counting on the soccer World Cup and the revival of its Reebok brand to return it to growth this year, after posting a weak finish to 2009.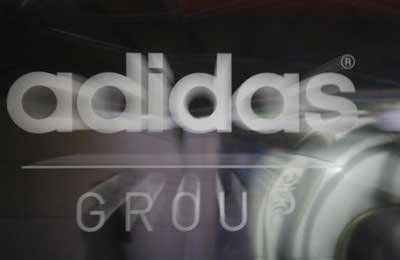 Le logo du groupe Adidas
But investors had expected more from the World Cup sponsor and outfitter, whose operating profit roughly halved last year. Adidas shares fell as much as 7.5 percent.
With 99 days to go until the soccer extravaganza in South Africa kicks off, Adidas said on Wednesday 3 March it expects 2010 net profit to rise to between 400 million euros ($540.9 million) and 450 million from 245 million in 2009.
This is less than analysts in a Reuters poll had expected and a far cry from its record net profit of 642 million euros in 2008.
Adidas also sees sales growing at a low- to mid-single-digit rate. That's still more optimistic than its cross-town rival Puma (PUMG.DE), which has said it expected this year's sales to remain at least flat.
"We appreciate Adidas gave a detailed outlook that early in the year," said M.M. Warburg analyst Joerg Philipp Frey. "However, it clearly misses consensus expectations."
Thomas Rosenke, analyst at WestLB, was also underwhelmed by the outlook and said: "We do not expect a significant recovery in key markets and just a limited positive contribution from the FIFA 2010 World Cup."
Adidas shares were down 6.1 percent at 35.725 euros by 1202 GMT and were the strongest decliners in Germany's blue-chip DAX index .GDAXI, which was down 0.1 percent.
"SOCCER IS OURS"
Adidas expects consumers to slowly return to pre-crisis spending habits, and sees retailers remaining cautious this year, it said. But it hopes to offset that with rising sales of soccer jerseys and other gear in the run up to the World Cup, its business in emerging markets and a stronger Reebok brand.
Adidas provides the official match ball and dresses the tournament's officials, such as referees. It also kits out 12 teams, including Germany, host nation South Africa, and European champions Spain. Nike (NKE.N) sponsors 10 teams, and Puma seven.
FIFA said last month that tickets for the World Cup semi-finals and final have sold out.
Adidas aims for record sales with soccer-related products this year, as does Puma.
But last week, Adidas was challenged by its arch rival and U.S. bellwether Nike, which said it would extend its lead in sales in this category over Adidas, helped by new launches and a marketing blitz.
Adidas Chief Financial Officer Robin Stalker countered: "Soccer is ours. We will continue to dominate this market."
The company said it will raise its marketing budget modestly this year. It spends on average 13 to 13.5 percent of annual sales -- 10.4 billion euros in 2009.
Adidas bought Reebok in 2006 to boost its position in classic sportswear and compete better against Nike. But Reebok has been struggling, particularly in its North American home market and the turnaround has taken longer than planned.
"After four years of hard work, we can now see the first shoots of success," said Chief Executive Herbert Hainer.
Adidas hopes to return the Reebok brand to growth this year on the back of its latest toning products, like the EasyTone shoe -- a market which is seen growing strongly.
MOST DIFFICULT YEAR
Adidas CEO Hainer said 2009 had been the "the most difficult year" since he took the top job in 2001.
Nike, Adidas and Puma have been hit hard by the economic downturn as consumers cut back on extra spending, which the companies have tried to counter by slashing costs.
Adidas has cut jobs, closed regional offices and some stores and aims to save more than 100 million euros annually from 2010.
Restructuring charges along with higher marketing and input costs left a mark on its fourth-quarter earnings.
Adidas, known for its distinctive three stripes logo, posted a 60.6 percent drop in fourth-quarter operating profit to 42 million euros, missing the average estimate of 66 million euros in a Reuters poll of analysts.
The company proposed a 2009 dividend of 0.35 euro per share against 0.50 for 2008
Adidas shares trade at 15.3 times 12-month forward earnings, at a discount to Nike, which trades at a multiple of almost 17, as investors remain wary of Reebok's performance.
(Additional reporting Hakan Ersen and Christoph Steitz; Editing by Louise Heavens and Rupert Winchester)
($1=.7395 Euro)
© Thomson Reuters 2023 All rights reserved.