Adidas second quarter beats estimates, says worst behind it
FRANKFURT, Aug 5 (Reuters) - Adidas AG (ADSG.DE), the world's No. 2 sports goods maker, said it had turned the corner after reporting better-than-expected second-quarter results on Wednesday 5 August and kept its 2009 outlook, sending its shares higher.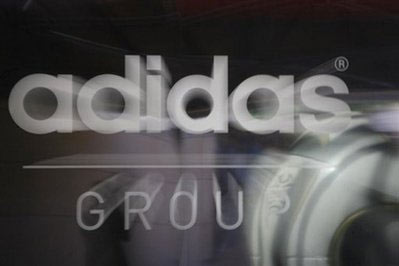 Photo: AFP/DDP/File/Timm Schamberger
Adidas, which equips the national soccer teams of Germany, Argentina and Spain, said it still expects 2009 margins, net income and earnings per share to decline due to higher operating costs and sees sales down by a mid-single-digit rate.
"Although there are still challenges ahead, I am confident that our results will improve as we go through the remainder of the year," said Chief Executive Herbert Hainer. "I believe we have seen the bottom in our financial performance this year."
The firm's U.S. arch-rival, world no. 1 Nike, gave a less rosy outlook in June, reporting a worse-than-expected global decline in forward orders and warning analysts 2010 would be challenging. [ID:nN24223907]
A triple whammy of less inventory purchased by retailers, currency fluctuations and spending-averse customers around the world has hit the major sports footwear brands, which are responding by cutting costs.
Adidas aims to save more than 100 million euros from 2010 by cutting 1,000 of its almost 39,000 staff this year and by closing regional offices and potentially some of its stores.
Its second-quarter operating profit fell 65.5 percent to 72 million euros ($103.6 million) on sales of 2.5 billion euros, down 2.5 percent. Both figures beat the average estimates in a Reuters analyst poll of 39 million and 2.4 billion respectively.
REEBOK WEIGHS
Its U.S. brand Reebok, which Adidas bought in 2006 to complement its strength in classic sportswear and to compete against Nike, posted an operating loss of 51 million euros.
Adidas shares rose 7.4 percent to 32.69 by 0838 GMT, the top gainer in Germany's blue-chip DAX index .GDAXI, which was broadly unchanged.
"There does not seem to be any particular problem with the second-quarter performance, still very weak but in line or even slightly above expectations," said Cedric Lecasble, analyst at Kepler Capital Markets.
Shares in German rival Puma (PUMG.DE) gained 3.2 percent.
Adidas shares trade at 13.5 times 12-month forward earnings, according to Thomson Reuters StarMine, which weights analysts' forecasts according to their track record.
That is a discount to Nike, which trades at a multiple of about 16, as investors remain wary of Reebok's weak performance.
($1=.6949 Euro)
(By Eva Kuehnen. Additional reporting by Christian Kraemer in Munich; editing by John Stonestreet)
© Thomson Reuters 2023 All rights reserved.