Adidas to cut debt, sees potential to raise margin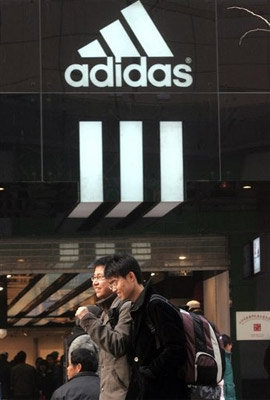 Adidas store in Beijing - Photo : AFP
FRANKFURT, May 7 (Reuters) - The world's second-largest sporting goods maker Adidas (ADSG.DE) will work on reducing its debt and strengthen its balance sheet to be able to pounce on to opportunities should they arise, its chief executive said.
"With a strong balance sheet and low debt we will always be able to utilise opportunities in the market in the interest of our shareholders," Herbert Hainer said in remarks prepared for the company's annual general meeting on Thursday 7 May.
He was striving to get Adidas' gearing below 50 percent in the medium term, he said.
The group's financial leverage stood at 81.8 percent at the end of March, up from 72.9 percent in 2008, it said on Tuesday 5 May when it shocked investors with a 97 percent drop in first-quarter net income.
It said then it plans to cut jobs as well as close regional offices and potentially stores.
Hainer said Adidas had the potential to raise its operating margin above 11 percent in the medium term from around 2.2 percent in the first quarter.
Adidas shares were up 2.8 percent at 25.73 euros by 0909 GMT, outperforming a 1.5 percent gain in Germany's blue-chip DAX index .GDAXI.
(Reporting by Eva Kuehnen)
© Thomson Reuters 2023 All rights reserved.