Adrenalina withdraws director nominees to PacSun board
April 3 (Reuters) - Pacific Sunwear of California (PSUN.O) said smaller rival Adrenalina (AENA.OB) has withdrawn its proposed slate of directors to the athletic-clothing retailer's board, signalling the end of a month-old proxy contest.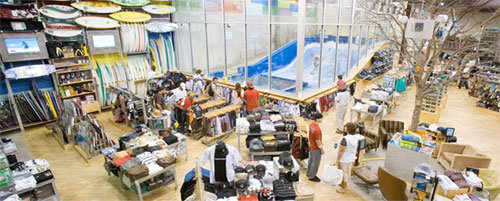 Adrenalina - www.adrenalinastore.com
In February, Miami-based Adrenalina had named four nominees to PacSun's board and demanded the resignation of PacSun's CEO after multiple attempts to acquire the larger rival went futile.
Adrenalina's withdrawal of its nominations follows a meeting earlier this week between several independent directors of PacSun and Adrenalina's Chief Executive Ilia Lekach, PacSun said in a statement.
Adrenalina, which runs a three-store chain, had made several bids to buy PacSun -- a thousand-store chain -- blaming a fall in PacSun's share price.
Even as Adrenalina (AENA.OB) pursued talks to acquire the larger rival, analysts had said a combination of the two was unlikely.
While several analysts raised concerns about Adrenalina's ability to obtain funds to finance the deal, some said the offers made by Adrenalina were below what PacSun was worth if its turnaround efforts were successful.
PacSun had closed its underperforming demo stores last year in a bid to turn around its business.
PacSun shares were down 2 cents at $1.67 Friday morning on Nasdaq. (Reporting by Dhanya Skariachan in Bangalore; Editing by Saumyadeb Chakrabarty)
© Thomson Reuters 2023 All rights reserved.