Alberta Ferretti arrives in the United Arab Emirates
Alberta Ferretti has opened its first boutique in the United Arab Emirates. The luxury label, in partnership with Al Tayer Insigna, opened this store in Dubai in June on the first level of the Dubai Mall's Fashion Avenue. In this space, collections of clothes, accessories and shoes from Alberta Ferretti and Philosophy di Alberta Ferretti will be on offer.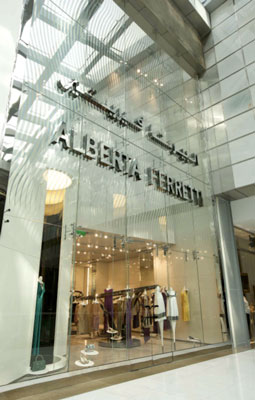 Alberta Ferretti boutique in Dubai
The concept of this new boutique, the first for Alberta Ferretti in the Middle East, was developed by Sybarite Architects, a London based company. It "translates the style of Alberta Ferretti, developing a language of light and transparency, creating a feminine atmosphere, airy and ethereal like the clothes."
Clothes are displayed through a system of magnetic arches and boards where clothes can be freely positioned on glossy panels of steel. Cement pedestals and mannequins rise from the floor, giving depth to Alberta Ferretti's items. Furthermore, the brand should be opening another boutique in the Pearl shopping centre in Doha, the capital of Dubai's neighbouring state: Qatar.
By Jonathan Fulwell (Source: Sarah Ahssen)
Copyright © 2023 FashionNetwork.com All rights reserved.