Alexander McQueen sees feminine strength for spring
PARIS | Wed Oct 5, 2011 - With faux feathers and cascades of ruffles, Alexander McQueen brought fantasy and femininity to the runway on Tuesday, while still hewing to the fashion label's edgy, dark side for spring.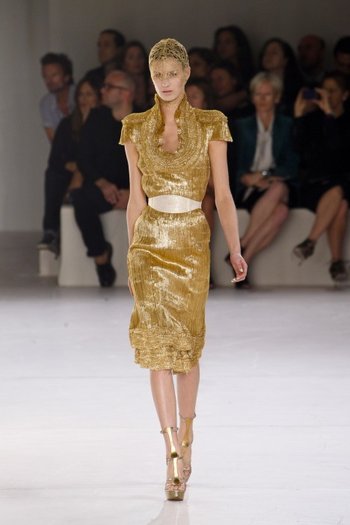 Alexander McQueen - SS 2012 / Photo: Pixel Formula
Creative Director Sarah Burton presented a show-stopper in the best tradition of the theatrical brand, mixing up flirty skirts that flounced at the knee with harder-edge military details like epaulets, high collars and armor-like bodices.
Burton -- once the label's head of women's' design before the 40-year-old McQueen committed suicide last year at his London home -- has been riding a wave of notoriety since her design of Kate Middleton's wedding dress this spring.
The Gothic-inspired ivory satin and lace affair with a 2.7 meter-long train garnered raves and focused an international spotlight on Burton and the Alexander McQueen line.
"What you saw tonight, the brilliance behind the fantasy and the beauty of the show has nothing to do with that," said actress Salma Hayek after the show, referring to the now-infamous wedding dress.
"I think she's already moved on from that. It's gone somewhere else. It was very unexpected. It was amazing."
Hayek is the wife of the chief executive of the PPR Group, Francois-Henri Pinault, whose stable of brands include Yves Saint Laurent, Gucci, Balenciaga and Stella McCartney.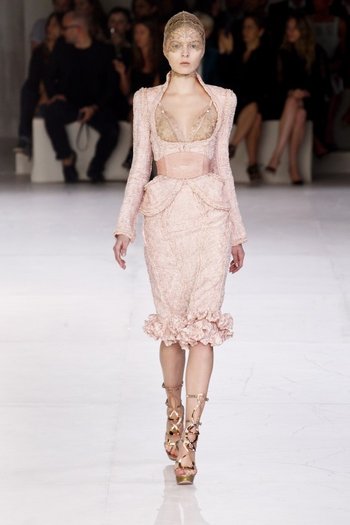 Alexander McQueen - SS 2012 / Photo: Pixel Formula
Using colours of buttery ivory, gold, salmon and violet, Burton somehow managed to reconcile weightlessness with structure in her gowns.
Tiny bits of chiffon were sewn together to create what looked like baby-doll dresses made from feathers. Yet as the sinewy models passed by, one caught a glimpse of a harness at the back -- a motif she used in her Fall 2011 collection -- providing a darker, more aggressive note.
SEXY SUFFOCATION
Strength and femininity went hand in hand in form-fitting jackets in silvery pink and gold, adorned with fringed epaulets or high Elizabethan collars, paired with narrow skirts below the knee.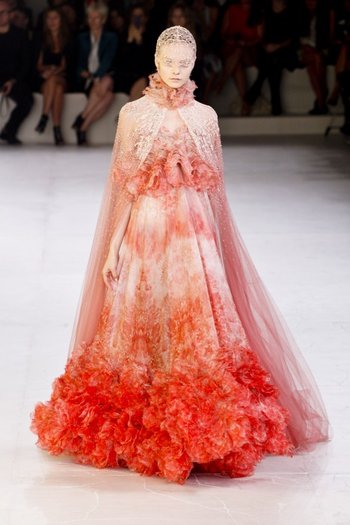 Alexander McQueen - SS 2012 / Photo: Pixel Formula
Ruffles in a muted print of violet and grey burst from the seams of jackets and dresses, their fluidity constrained by the sharp tailoring of the garments.
Burton's underwater fantasy was the show's highlight, with models transformed into mermaid warriors. Using abalone shells in one gown, and coral in another, she created intricate, armor-like corseted torsos, with soft chiffon billowing beneath to the floor.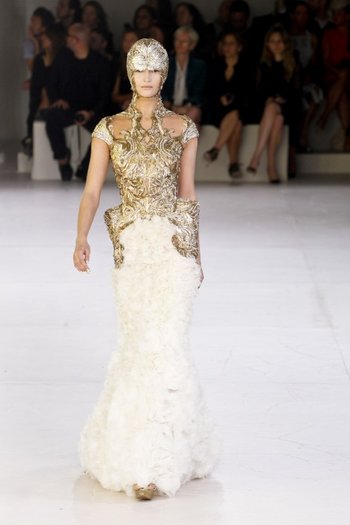 Alexander McQueen - SS 2012 / Photo: Pixel Formula
"I do believe there's a little less of an angst when I see this collection," said Ken Downing, fashion director for U.S. department store Neiman Marcus. "I think because it's in the hands of a woman, we see a little more of a feminine spirit."
Still, it would not be an Alexander McQueen show without a darker and more menacing undertone, and Burton mixed up strips of black vinyl with cream lace in a gown that looked like it was glued onto the model's body, almost trapping her inside.
Indeed, the show's styling reinforced the idea of entrapment and suffocation as intricately and beautifully woven, form-fitting death masks obscured the models' faces.
The choice of the Centquatre art center in Paris' gritty 19th Arrondissement was morbidly appropriate. The space -- now a expansive open pavilion with a vast glass and steel roof -- once housed Paris' state-run mortuary.
(Reporting By Alexandria Sage; editing by Andrew Roche)
© Thomson Reuters 2023 All rights reserved.