Amazon blows by estimates, sees strong first quarter
SAN FRANCISCO (Reuters) - Amazon.com Inc blew past analysts' profit estimates in its closely watched holiday quarter and forecast revenue for early 2010 that topped already-high Wall Street expectations.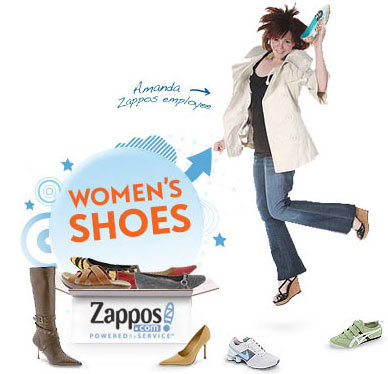 Photo: www.zappos.com
The world's largest online retailer -- which sells everything from books to barbecues while offering a host of services to businesses and Web developers -- has been viewed as a winner of a fiercely competitive 2009 holiday season.
Amazon, whose shares rose nearly 2 percent in after-hours trade, has gained ground as more consumers turn to the Web for bargains and has moved aggressively against retail juggernaut Wal-Mart Stores Inc in a battle for low-priced books, toys and electronics.
Amazon's growth "is not only intact and confirmed by the earnings report, they continue to surprise with nice upside beyond any reasonable expectations," said Frederick Moran, analyst at Benchmark Co.
"So far I see no chinks in the armor of Amazon's earnings report," he said. "We'd be buyers of the stock."
A sales revival in Amazon's media category, its newly acquired Zappos online shoe business, and sales from third-party sellers who use Amazon's site to sell their goods also contributed to results.
"Amazon must be dramatically taking share," wrote Citigroup analyst Mark Mahaney in a note, calling fundamental trends "clearly impressive."
"Street numbers will likely go up ... again," he added.
Amazon also announced a $2 billion share repurchase with no fixed expiration.
The company again cited the strength of its Kindle electronic book reader, which has fascinated yet frustrated Wall Street, given its apparent popularity but the lack of disclosed sales data.
Amazon said it is now selling six Kindle e-books for every 10 physical books on its site in cases where it has editions in both formats, excluding free downloads. It declined to give a year-ago comparison.
AFTER-MARKET SHOCK
Fourth-quarter net profit jumped 71 percent to $384 million, or 85 cents per share, from $225 million, or 52 cents per share, a year earlier.
Analysts, on average, had been expecting 72 cents per share, according to Thomson Reuters I/B/E/S.
Revenue increased 42 percent to $9.52 billion -- above the $9.04 billion expected by Wall Street and the $9.13 billion that was at the high end of Amazon's own forecast.
Zappos, which Amazon bought in October, contributed $200 million of revenue in the quarter.
Investor response to Amazon's numbers was strongly negative at first, with its shares falling more than 7 percent and then swinging more than 3 percent higher in a short period of time.
"Their gross margin was lighter in the quarter than I was expecting but they offset that by just managing their operating expenses," said Hamed Khorsand, analyst with BWS Financial. "People saw the gross margin number and that's probably what caused the stock to react negatively initially."
Amazon's quarterly gross margin was about 20.8 percent, just shy of the 21 percent expected by Khorsand and up from 20.1 percent a year earlier.
"We were able to take that (revenue) growth and leverage our cost structure," Amazon Chief Financial Officer Tom Szkutak told reporters during a media call.
That margin was eroded somewhat by lower price tags on Amazon products in the competitive holiday sales environment, but offset by growth in Amazon's Web service business, savings passed on from vendors and inventory management, Szkutak said.
Also on Thursday 28 January, rival Wal-Mart said it had created a new division called Global.com to oversee its global e-commerce business -- suggesting the largest worldwide retailer plans to accelerate growth of its online unit.
In Amazon's media segment, which includes books, revenue rose 29 percent in the fourth quarter.
"We haven't seen that kind of growth in some time," said Scott Tilghman, an analyst with Hudson Square Research. "The last time we were over 20 percent was in June of 2008."
Revenue climbed 60 percent in the electronics and general merchandise category. North American sales increased 36 percent, while international sales rose 49 percent, boosted by favorable currency translations.
Amazon sees operating profit for the first quarter of 2010 of $275 million to $365 million, on revenue of $6.45 billion to $7 billion, representing a 32 percent to 43 percent rise.
Analysts had been expecting revenue of $6.36 billion in the first quarter.
Shares rose in after-hours trading to $128.35.
(Additional reporting by Martinne Geller, Lisa Baertlein and Caroline Valetkevitch; Editing by Michele Gershberg and Steve Orlofsky)
© Thomson Reuters 2022 All rights reserved.