Amazon outlook cheers as Q1 profit dives
Apr 26 - Amazon.com Inc's strong forecasts for second-quarter revenue overcame investors' concern about a surge in investment and spending that sent first-quarter earnings plummeting 33 percent.

Its shares wavered between positive and negative territory in after-hours trading.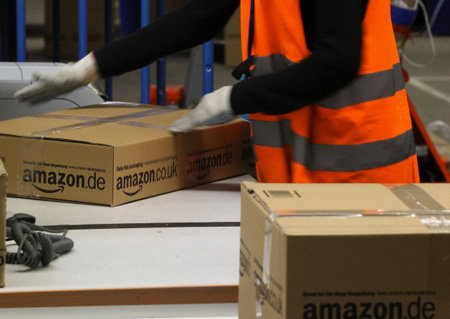 An employee of Amazon works at the storage facility of Amazon in Werne, Germany
Commentary:
PATTY EDWARDS, CHIEF INVESTMENT OFFICER, TRUTINA FINANCIAL
"The revenue doesn't shock me given the good consumer confidence numbers, the fact that we're seeing more shopping. Everybody from Coach on is putting up good numbers on sales.
"They nailed it on the sales.
"The sales are there. The question is, how can they make it more profitable?
"We all knew that there were going to be costs because of the higher gas prices. I guess I just didn't think it was going to be quite what it was.

COLIN SEBASTIAN, ANALYST, LAZARD CAPITAL MARKETS

"This is kind of the same story, different quarter ... The issue remains margin pressure. The counter to that is revenue growth is strong.
"This is another investment year," referring to Amazon's increased spending on distribution centers and data centers.
"It's probably not going to be until Q4 that we see some leverage from that.
Sebastian remains comfortable with the investment "as long as they continue this level of revenue growth."
COLIN GILLIS, ANALYST, BGC PARTNERS

"When you are trading at a 56 times earnings and your operating income is shrinking as your revenue is growing, that is not a good formula.
"It's not a revenue problem, it's a profit problem. But at the end of the day, you've got to remember that these guys are a discount retailer."
KEN SENA, ANALYST, EVERCORE PARTNERS
"Revenues came in stronger than I was expecting, the bottom line looks a little bit light. Really, it's a story of revenues being much stronger than we were expecting but expenses coming in heavier than anticipated.
"The guidance came in much higher than we were expecting. I think that that's a really really strong sign.
"The stock is selling off a little bit right now. Guidance was a blowout so I think people are concerned about near-term spending, but clearly they are doing the right thing.
"The concern that people had, that they were going to spend more than the Street was expecting, happened. But when you look at the kind of growth acceleration they are showing on the top line and surpassing pretty much all Street expectations, I think that clearly what they are doing makes sense. So we continue to be "outperform" on the stock and think the stock is going to work well. But it is requiring a little bit of patience."
(Reporting by Nichola Groom and Brad Dorfman)
© Thomson Reuters 2023 All rights reserved.