American Apparel expects 2010 loss from operations
SAN FRANCISCO (Reuters) - American Apparel Inc (APP.A), whose sales have slumped as it faces ongoing debt problems, said it expects a loss from operations in 2010 and warned it may not be in compliance with a covenant required by a key lender beginning next year.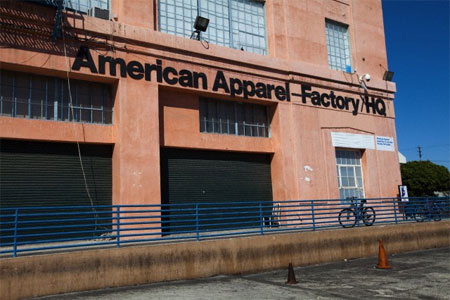 American Apparel factory and headquarters in Los Angeles, California. 21/08/2010
The retailer and wholesaler, known for its edgy advertising and brightly colored T-shirts, also said that as of September 30 it was not in compliance with a covenant of its agreement with Bank of Montreal (BMO.TO). That required the submission of audited financial statements from the company's Canadian operations within a certain time frame.
American Apparel is trying to put its financial house in order as it streamlines operations and considers closing stores. The company has faced a long string of troubles, from possible covenant breaches to immigration probes of its workers to shareholder litigation and a long-running sales slump.
The Los Angeles company has narrowly missed breaches of its covenants before, but has had to amend its credit agreements at the cost of higher interest payments.
American Apparel said in a filing published Tuesday with the U.S. Securities & Exchange Commission that it was "probable" that beginning Jan. 31, it would not be in compliance with a covenant through its main lender, UK-based Lion Capital, that requires a certain EBITDA threshold.
"Based upon the foregoing, the company has classified its obligations outstanding under the Lion credit agreement as current liabilities ...," the company wrote in the filing for the quarter ended Sept 30.
Noncompliance with its Lion covenants could spark a default of another credit agreement with Bank of America (BAC.N), American Apparel said.
For the third quarter in a row, American Apparel warned that if its lenders call in their loans and the company is not able to find alternative sources of liquidity, the company may not be able "to continue as a going concern."
LOSS IN QUARTER
American Apparel, whose "Made in USA" clothing and socially progressive stances has resonated with urban hipsters, has long been criticized for lax financial controls and a lack of strong senior management.
Analyst say the company, which has 278 stores around the globe, grew too quickly with little oversight and may now be at odds with current fashion trends.
But in October, under pressure from lenders, the company hired former Blockbuster (BLOAQ.PK) Chief Financial Officer Tom Casey as acting president.
On Tuesday, American Apparel reported a third-quarter loss as margins took a hit from lower labor efficiency and a shift in production to more complicated clothing styles.
Same-store sales, a key gauge of retail performance, fell 16 percent in the quarter, the company said.
Shares of American Apparel closed at $1.14, down 4 percent, on the American Stock Exchange.
(Additional reporting by Renju Jose in Bangalore; Editing by Steve Orlofsky and Richard Chang)
© Thomson Reuters 2022 All rights reserved.