American Apparel in talks with restructuring firm
(Reuters) - Hipster brand American Apparel Inc (APP.A) is in talks to bring in an outside restructuring firm as the manufacturer and retailer struggles to fix its flagging operations, sources told Reuters on Friday.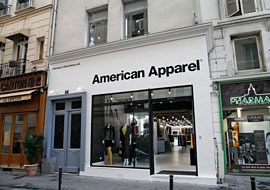 American Apparel boutique, Saint Germain, Paris
Lender Bank of America (BAC.N) pressed American Apparel to hire the firm, a specialist in corporate turnarounds, according to people familiar with the matter. The firm is not being brought in to arrange a bankruptcy, sources said, but to help improve operations and its financial condition.
The firm has been meeting with eccentric American Apparel founder and Chief Executive Dov Charney and his executives, but did not want to be identified because it has not yet formally signed an engagement letter for the job, these people said.
American Apparel, known for its "Made in USA" clothing, socially progressive stances and racy advertising, has long been criticized for lax financial controls and a lack of strong senior management. The outspoken Charney is seen as a brilliant creative mind, but who is struggling as he juggles the myriad problems befalling the company.
People close to the matter said American Apparel still had plenty of room to maneuver to fix its fiscal woes, and while the situation was serious, a bankruptcy filing was unlikely, at least for now.
An attorney and spokesman for American Apparel, Peter Schey, declined to discuss the matter. But he said banks which lend to the company have traditionally had consultants visit operations periodically and conduct field audits.
"This is part of the conditions of a line of credit since the company was formed and continues to be going forward," he said.
Bank of America declined to comment.
The 279-store chain warned last month it would likely be in default by the end of this month on its loan agreement with UK-based lender Lion Capital.
A default on its debt from Lion would represent a breach of its $75 million revolving borrowing facility with Bank of America, and the lender could cut off the credit lifeblood.
That potential lack of cash could hit the company just as it tries to ramp up its inventory at its many stores for the crucial holiday sales burst.
Shares of American Apparel, which are extremely volatile, are down 66 percent so far this year. They closed down 1 cent at $1.06 on Friday on the American Stock Exchange.
The company and its executives were also recently hit with a lawsuit filed by disgruntled shareholders claiming they were misled about American Apparel's true financial condition.
DISCIPLINE AT THE TABLE
The threat of covenant breaches often clears the way for lenders to demand that a company take on a financial adviser to bring in some discipline. This consultant works on behalf of the bank and is privy to financial information that companies often are reluctant to disclose.
Restructuring experts say boards often will hire their own advisers in such cases because they need to avoid the appearance they are ceding their fiduciary duty to protect their shareholders to an outside entity answerable to lenders.
Schey said there was "no effort to retain other firms as a counterweight to any firms used by lenders."
Charney has a controlling stake of 53 percent of the company. Billionaire investor Ron Burkle earlier this summer took on a 6 percent stake.
American Apparel built its brand selling colorful fashion basics such as T-shirts, shorts and leggings to urban hipsters. But aggressive retail expansion before the global economic downturn and what many claim are weak financial controls have dogged the company and weighed on its shares.
Last week, the company warned it could face delisting on the American Stock Exchange due to the tardiness of the filing of its second-quarter quarterly report.
Experts say that despite American Apparel's current woes, its brand is still attractive. They agree that more senior management is needed at the company, such as a head of stores or administration.
Last month, the company projected a second-quarter loss from operations of $5 million to $7 million, versus a prior-year profit of $7.3 million. Sales at stores open at least a year, a key gauge of financial health, are expected to have fallen 16 percent for the quarter ended June 30.
"Losses from operations are expected to continue through at least the third quarter of 2010," it said in its August filing with the U.S. Securities & Exchange Commission.
"These factors, among others, raise substantial doubt that the Company will be able to continue as a going concern."
American Apparel wrote that there was "no assurance" that plans by management to improve operating performance would succeed.
(Additional reporting by Emily Chasan; Editing by Richard Chang)
© Thomson Reuters 2023 All rights reserved.