American Apparel shares sink
(Reuters) - Clothing maker American Apparel Inc (APP.A) expects it won't be in compliance with a covenant under its credit agreement next month, shocking the market and sending its shares down 42 percent.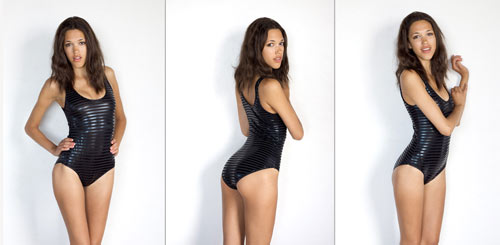 Signe in the Lame Stripe Bodysuit from American Apparel - Photo: www.americanapparel.net
The wholesaler and retailer, which sells shiny spandex leggings and basic cotton T-shirts, on Wednesday 19 May posted a wider quarterly operating loss. Its margins shrank in the aftermath of a forced layoff of potentially illegal workers and the company said it would delay the filing of its quarterly report for the quarter ended March 31.
American Apparel said it would not provide financial guidance for the rest of the year, citing the impact of the projected covenant non-compliance on operations and "highly uncertain sales trends."
The company is known for splashing near-nude models on billboards and for its outspoken Chief Executive Dov Charney, who has repeatedly been sued for sexual harassment and owns more than 53 percent of American Apparel shares.
The company makes clothes at its own factories in Los Angeles and has rapidly expanded its global retail presence to a fleet of 280 stores. It has recently been hit by concerns over compliance with federal immigration regulations at its home base.
American Apparel said it plans to continue working with its second-lien lender Lion Capital to obtain amendments to the total-debt-to-adjusted-EBITDA covenant at June 30.
Total debt increased $8 million to $91.4 million at March 31. American Apparel had about $36 million and $4 million of availability under its U.S. and Canadian credit facilities, respectively.
The projected covenant non-compliance may impact the company's ability to carry out its operating plan for 2010, American Apparel said in a statement.
Lazard Capital Markets analyst Todd Slater wrote in a note to clients that the company will likely "be able to work out a solution with Lion and obtain the necessary amendment, although this could cause further equity dilution."
Shares of the company closed down $1.11 to $1.63 on the American Stock Exchange. They plummeted to a year low of $1.59 earlier in the session.
OPERATIONS STALLED
Non-compliance with a covenant means default on a credit facility, compromising a company's ability to borrow.
American Apparel, which has long campaigned for immigrant workers' rights, laid off 1,500 workers late last year after a federal inspection, handicapping its manufacturing capacities.
That inspection revealed that roughly a third of workers had supplied suspect or invalid records and were not authorized to work.[ID:nN30472585] American Apparel says it diligently complies with the law, but that employees can easily fake immigration papers.
First-quarter gross margins contracted to 50.4 percent from 57.2 percent last year, reflecting the reduced manufacturing efficiencies and a shift in mix to lower margin wholesale net sales from retail.
"American Apparel has hired 500 new factory employees in the last five weeks, but needs to hire an additional 500 people to meet demand at wholesale and retail," wrote analyst Slater, who maintained his "hold" rating on the stock.
He added that margins will remain under pressure throughout 2010 until such time as the company's 1,000 new factory employees get "fully up to speed."
The company also said it had received a letter from the New York Stock Exchange AMEX LCC, warning that an untimely filing of its 10-Q report could result in delisting.
For the first quarter, American Apparel posted an operating loss of $17.6 million, compared with an operating loss of $3.9 million, a year ago.
(Editing by Michele Gershberg, Bernard Orr)
© Thomson Reuters 2023 All rights reserved.