Arvind ends license pact with US-based Hartmarx
MUMBAI, July 1 (Reuters) - Textiles firm Arvind Ltd (ARVN.BO) said on Wednesday 1 July it terminated its business agreement with US-based Hartmarx Corp with whom it had a licensing pact for three brands.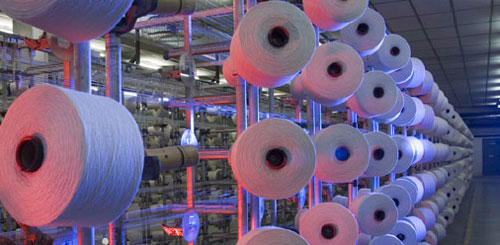 Arvind Ltd textiles production
Arvind Brands, an unit of Arvind had entered into an agreement to design, distribute and retail three Hartmarx brands-- Hart Schaffner Marx, Pierre Cardin and Sansabelt, in India.
Chicago-based Hartmarx, which has made suits for President Barack Obama, filed for bankruptcy on Jan 23, citing a substantial drop in demand for its products and inability to secure financing.
Arvind's rival S Kumars Nationwide (SKMK.BO: Quote, Profile, Research) has acquired the U.S. clothing company for about $120 million through its U.S. unit SKNL North America, along with its operating partner Emerisque UK.
"Consequent to Hartmarx Corporation filing bankruptcy in the U.S. and the likely transfer of the company to the owners, the company has terminated the business agreements it held with Hartmarx," Arvind said in a notice to the stock exchange.
Ahead of the announcement shares of Arvind closed up 2.29 percent at 26.80 rupees in a firm Mumbai market.
(Reporting by Aniruddha Basu; Editing by Ramya Venugopal)
© Thomson Reuters 2023 All rights reserved.