LONDON | Thu Jul 14, 2011 - Online fashion firm ASOS (ASOS.L) posted a leap in first quarter sales and said it was confident about the outlook, showing there are still winners in the retail sector, even in straitened times.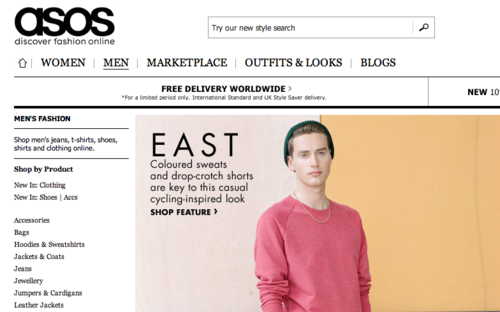 asos.com
ASOS, which targets internet-savvy 16 to 34-year-old women looking to emulate the designer looks of celebrities such as Kate Moss, Sienna Miller and Alexa Chung, but at a fraction of the price, said Thursday its retail sales increased 69 percent to 104.2 million pounds in the three months to June 30.
That compares with an increase of 70 percent in the fourth quarter.
UK retail sales increased 15 percent to 44.6 million pounds, having been up 24 percent in the previous quarter.
International sales soared 160 percent to 59.6 million pounds, driven by last year's launch of United States, French and German websites, having been up 161 percent in the fourth quarter and now make up 57 percent of the sales mix.
ASOS said its retail gross margin was in line with guidance.
While many retailers have struggled against tough macro headwinds, ASOS has prospered, benefiting from a young core customer base and the migration of spending from the high street to the Internet.
"The new financial year has started well and we remain positive in our outlook for 2012, with progress to date in line with expectations," said Chief Executive Nick Robertson.
Shares in ASOS have nearly trebled over the last year, fuelled by buoyant trading and speculation it could attract a bid from firms as diverse as 20 percent Danish shareholder and supplier Bestseller, U.S. internet retailer Amazon (AMZN.O) and UK retailers Marks & Spencer (MKS.L) and Tesco (TSCO.L).
The stock closed at 2,350 pence Wednesday, valuing the business at 1.76 billion pounds.
(Reporting by James Davey; editing by Rhys Jones)
© Thomson Reuters 2023 All rights reserved.