Avon board elected with "significant" support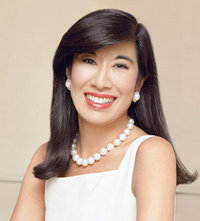 Andrea Jung / Photo: Avon Inc
NEW YORK - Avon Products Inc's board members, including former chief executive Andrea Jung, were all elected to a one-year term on Thursday, giving them a show of support as the cosmetics company fends off an unwanted $10 billion bid from Coty Inc.
Jung, who was CEO for more than 12 years until she handed over the reins to former Johnson & Johnson executive Sheri McCoy last week, said at Avon's annual meeting in New York that holders of 85 percent of Avon's shares were represented.
An election inspector told the meeting that the proposal to re-elect nine board members and elect a new director, Campbell Soup Co's former CEO Douglas Conant, who joined the board last month, had received "significant" support. No other slate had been proposed.
During a brief question and answer period, no shareholder asked Jung, who is now executive chairman, about the Coty bid, or why the company has refused to discuss a deal with its smaller rival.
Avon last month rebuffed Coty's unsolicited $23.25 per share bid, saying a new CEO would do more to increase the company's value than being bought out.
On Thursday morning, Avon shares were down 1 percent at $19.72, or about 15 percent below Coty's offer.
But one shareholder at the meeting told Reuters he wants the board to at least engage with Coty, saying Avon has been "mismanaged" for years.
"They have to. It's their fiduciary responsibility. What's to make me believe that the value of the company is going to go up?" said John Lamie, who said he'd be willing to sell for $30 per share.
While Jung, who has been blamed for the company's myriad problems on her watch, led the meeting, McCoy spoke briefly.
"I am taking a fresh look at every aspect of the business," McCoy told the 40 or so shareholders in attendance. "I am confident that Avon's future can be as meaningful and successful as its past."
On Tuesday, after Avon reported another quarter of poor results, McCoy said her first priority would be to stabilize Avon's business.
Avon has faced years of declining sales and an exodus of its sales representatives in the United States. It has also lost market share in key emerging markets, grappling with aggressive pricing by rivals in Eastern Europe and inadequate ordering systems that have frustrated representatives in Brazil.
During the question period, one shareholder faulted the company for not having younger directors, while another, who is also a sales representative, faulted the company for what he said was an inadequate use of social media to foster sales.
Avon's top shareholders are T. Rowe Price Associates, with a 7.1 percent stake, Capital Research Global Investors with 6.1 percent, Invesco Advisers with 4.8 percent, and Vanguard Group with 4.6 percent, and BlackRock Institutional Trust Company with 4.4 percent, according to Thomson Reuters data.
© Thomson Reuters 2023 All rights reserved.