Balenciaga does "The Office" for Paris fashion week
PARIS - Balenciaga gave the fashion world a high-style, highly finished glimpse at corporate glamour on Thursday in a fashion show set in an office tower featuring voluminous shapes and blocks of colour.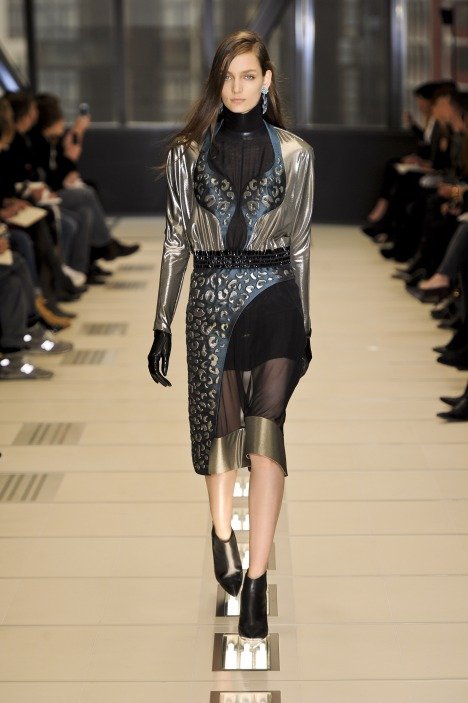 Balenciaga - AW 2012/13 - Photo: Pixel Formula
Playing with finishes from shiny to matte that incorporated leather, wool and silk, designer Nicolas Ghesquiere paired bold flashes of citrus or electric blue with reflective blacks and greys for a modern, futuristic look.
Form-fitting dresses of leather and silk featured panels of colour and texture -- shocking red at the bottom and shiny black silk at the bodice, cut in two by a swathe of cream and black printed fabric.
Blouson-type pants were roomy at the hips and narrowed at the ankle in a parachute-type fabric, at once both structured and flowing, and imparting an early 1980s vibe on the Fall/Winter ready-to-wear collection.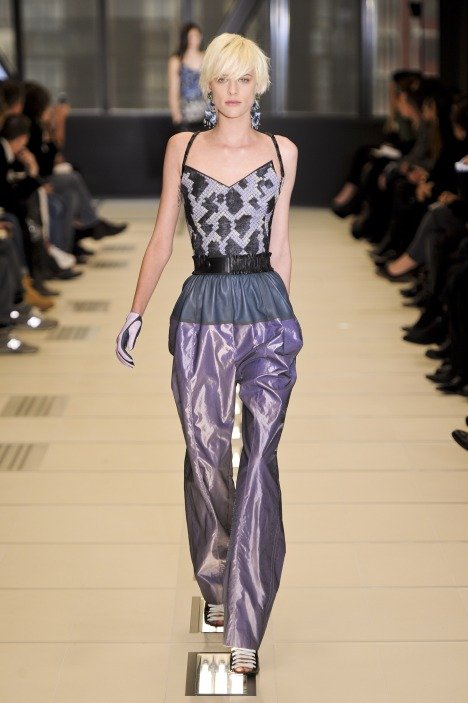 Balenciaga - AW 2012/13 - Photo: Pixel Formula
Balenciaga, now owned by French luxury group PPR, is one of the great 20th century couture labels which showed its first Paris collection in 1937 under founder Cristobal Balenciaga, who was born in the Basque region of Spain.
Called "Fashion's Picasso" by no less than Cecil Beaton, Balenciaga introduced the bubble skirt and other defining designs in the postwar decades and dressed the who's who of the well-heeled elite.
The label, which has enjoyed a revival since the 1997 hiring of Ghesquiere, held its collection on the 27th floor of a modern office tower with a stunning view over Paris. Models walked down make-shift runways highlighted by neon spotlights in the floors.
The interplay of textures and a penchant for shine was also seen at Guy Laroche on Wednesday, as designer Marcel Marongiu showed sheer black blouses, full with volume, paired with boucle pants or skirts, and roomy dresses whose draping evoked a 1920s elegance.
TINY WAISTS, FULL HIPS
At Carven, designer Guillaume Henry chose a bold palette of colours from mustard to red in flamboyant prints, inspired by Medieval Dutch painter Hieronymus Bosch. One trapeze skirt was sewn in fabric woven into a scene of rural farm life in the Middle Ages.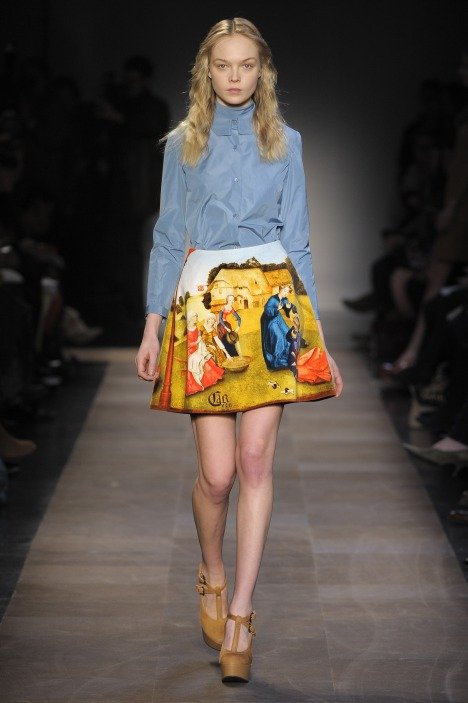 Carven - AW 2012/13 - Photo: Pixel Formula
"We still wanted it to be young and fresh and appealing," Henry told Reuters TV, saying the collection was geared to a city girl who liked the historical look of tiny waists and full hips.
Carven, which opened its first boutique in Paris early last year, is enjoying a burst of popularity and has become one of the new darlings of fashion editors after the couture label that began after World War One lost its lustre in the 1980s.
Prints were also front and centre at Rochas on Wednesday, as creative director Marco Zanini, inspired by the early 20th century Swedish ceramics artist Wilhelm Kage, took muted bronze, blue and brown tones and combined them in geometric prints.
The results, according to the collection notes, rest on "hand work, exquisite execution and a certain disregard for the notion of 'quiet good taste'."
(Additional reporting by Cindy Martin and Alexandria Sage; Writing by Alexandria Sage; Editing by Patricia Reaney)
© Thomson Reuters 2023 All rights reserved.