Ballantyne opens its vintage boutique
Ballantyne is making the most of all branches of style; after having announced the arrival of a collection from designer Philippe Starck, modern and ergonomic, the label is opening its first boutique dedicated to vintage clothes in the heart of Notting Hill.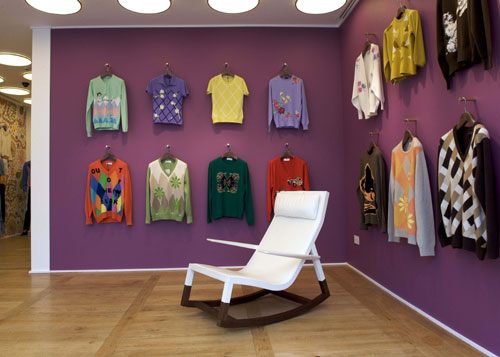 Interior of the Ballantyne vintage boutique in London
With re-releases of archived items and more up-to-date collections, the boutique at 303 Westbourne Grove surfs the decades, in particular the seventies, with disconcerting ease. To be discovered are tops, gilets, round-necked and v-necked jumpers, in block colours or striped. Clearly, there will be a large offering at the store, testimony to the rich history of the label that was founded in 1921.
While some argue that surroundings don't matter as long as content is good, here both the items and the boutique itself are appealing. Two pieces of the decoration are particularly appealing: the first, a display of clothes hung on a bright purple wall is in plain view of passers-by through the store's windows. The other takes us back to seventies, with an air of Woodstock, to flower patterns and round spots.
Open since the 6th of February, this first boutique entirely dedicated to vintage will be followed at the end of May by the opening of a more "traditional" store in the Westfield shopping centre in London. Also planned is a return to New Bond Street. All in all, a strong expansion programme which clearly states Ballantyne's desire to strengthen its presence in England.

By Jonathan Fulwell (Source: Emilie-Alice Fabrizi)
Copyright © 2023 FashionNetwork.com All rights reserved.