Bangladesh textile workers go on rampage
By Ruma Paul
DHAKA (Reuters) - Textile workers set fire to a factory in Bangladesh on Monday 29 June in a third day of demonstrations for payment of wages, witnesses said, as the global economic crisis hits the South Asian country's main export industry.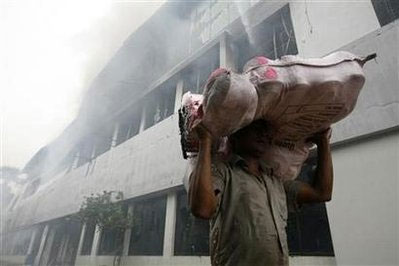 A manager tries to rescue some goods from the fire - Photo: REUTERS/Andrew Biraj
The workers were also protesting two colleagues' deaths blamed on police firing over the weekend at a similar demonstration on the outskirts of the capital Dhaka.
"The situation is now under control," a police official said after police fired rubber bullets and teargas to disperse the workers. At least 30 people were injured in the clashes.
Abdus Salam Murshedy, the President of the Bangladesh Garment Manufacturers and Exporters Association, said the global economic slowdown had hurt textile exporters and some of them could be facing financial difficulties.
A government survey released on Sunday 28 June reported 122 out of 825 factories had not paid workers on time between January and May.
Bangladesh earned $11 billion from textile exports last year, more than 75 percent of the impoverished country's total export income and equivalent to 17 percent of the country's GDP of around $65 billion.
Labour unrest in the textile industry has grown in recent years over unpaid wages and overtime. The minimum monthly wage of a textile worker is less than $25.
Exporters have ruled out any wage rise because of declining overseas sales.
The government would take strong action to prevent unrest in the garment sector, Labour Minister Mosharraf Hossain said.
"We will probe the incidents and punish those involved in the riots so that such incidents do not happen again," he said.
More than 100 people including several policemen have been injured since the protests began on Saturday 27 June.
Bangladesh has some 4,500 garment factories, employing more than 2.5 million workers.
(Reporting by Ruma Paul; Editing by Anis Ahmed and Jerry Norton)
© Thomson Reuters 2023 All rights reserved.