Barbie to get some Kardashian gal pals?
Celebrity magazine Us Weekly reported on Wednesday that the world's most famous doll was getting three high-profile new friends -- reality TV stars Kim, Kourtney and Khloe Kardashian.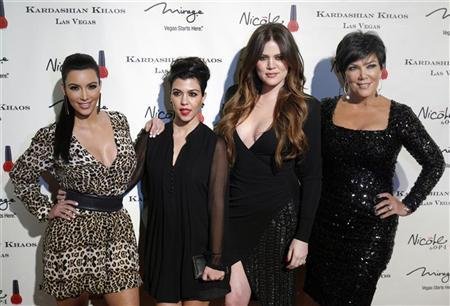 Television personalities (L-R) Kim Kardashian, Kourtney Kardashian, Khloe Kardashian and Kris Jenner arrive at the grand opening of the Kardashian Khaos store at the Mirage Hotel and Casino in Las Vegas, Nevada December 15, 2011 / Credit: Reuters/Las Vegas Sun/Steve Marcus

Us Weekly quoted an unnamed source as saying that the Kardashian sisters -- who found fame in the U.S. show "Keeping Up with the Kardashians" -- will be immortalized as Barbie's pals in an upcoming limited-edition doll line.
"The dolls will reflect the girls' measurements and may even come in Kardashian-designed outfits," the source said.
Barbie doll makers Mattel declined to comment, saying they never comment on "product rumors."
But the iconic Barbie herself, whose "careers" over the past 50 years have ranged from U.S. President to computer engineer, said in a cryptic Twitter message on January 1 that she had a new job to look forward to.
"I'm so excited to share my New Year's resolution with you dolls! I'm going to pursue a dream I've always had... to be a Fashion Designer!" Barbie tweeted.
Kim Kardashian, who made headlines last year by marrying basketball player Kris Humphries in a lavish TV wedding and filing for divorce 72 days later, has also been dropping hints.
"Merry Christmas Barbs @BarbieStyle! Long time no see! What did Ken get you for Christmas? Miss you doll!," Kardashian tweeted on Christmas Day.
© Thomson Reuters 2023 All rights reserved.