Barbie turns heads on New York's catwalk as marks 50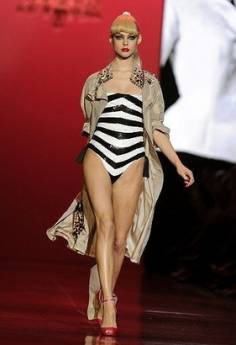 A model displays an outfit in the Barbie Runway Show during the 2009 Mercedes Benz Fashion Week in New York - Photo : Timothy A. Clary/AFP
By Aarthi Sivaraman
NEW YORK, Feb 14 (Reuters Life!) - Barbie turns 50 this year but the classic doll was still turning heads at New York's semi-annual Fashion week as models styled as Mattel Inc.'s fashion icon took to the catwalk in designer outfits.
Crowds overflowed at the eagerly awaited show which is part of a year-long celebration for Barbie's birthday which Mattel, the world's largest toy maker, is using to try to make Barbie fashionable again and boost flagging sales.
As pink curtains parted to show video images of Barbie over the years, the first model hit the runway in a black and white bathing suit reminiscent of the first generation Barbie.
The runway was taken over by models in dresses designed by 50 top names in the fashion world such as Vera Wang, Badgley Mischka, Tommy Hilfilger and Calvin Klein.
"Barbie is the quintessential American icon. She represents a woman's first experience with style, transcending generations and cultures; she holds a special place in the fashion world and is an inspiration to many designers," said Hilfilger in a statement.
The designs portrayed past, present and future looks of the classic doll in colors like black, red and pink and in styles that included long blond pony tails and futuristic hairstyles.
But pink was a dominant theme at the event, with dresses paired with pink peep-toe shoes by designer Christian Louboutin.
In keeping with Valentine's Day, Barbie's beau, Ken, made an appearance on the runway as Barbie's white shirt read: "Every Barbie needs a Ken."
The show was one of many steps that Mattel is taking to revitalize its core doll line among older girls who have dumped Barbie for more edgy dolls such as MGA Entertainment's Bratz range or for video games and other electronic toys.
Other events this year include plans to open the brand's first flagship store in Shanghai in March, hold a Barbie exhibit in Paris, and run a four-day National Barbie Doll Collector's Convention in Washington, D.C., in July.
(Reporting by Aarthi Sivaraman, Editing by Belinda Goldsmith)
© Thomson Reuters 2023 All rights reserved.