BazarChic targets Great Britain and Spain
BazarChic probably makes less fuss than others. But the site, launched in 2006 by the couple Liberty Verny and Nathalie Gillier, feels well established enough today in France to cross borders. Even though the e-commerce site already sells in Belgium and Luxembourg, it is Great Britain and Spain that BazarChic intends to embark on next, as a priority "because these are countries that correspond well to our rather upscale and creative position that adds a certain French touch," says Verny Liberty. And these are countries where the sale of end-of-season products over the net is understood well.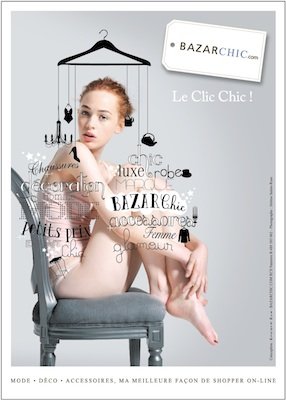 BazarChic advertising
Initially, deliveries are expected to come from the French headquarters in Gennevilliers. BazarChic developed there a proprietary management system for both management of the orders and for logistics, which can absorb up to 10,000 processing orders per day. Normally this is between 3,000 and 4,000. The average basket is worth close to 100 Euros. "We have, in terms of resources, always wanted to be one or two years ahead of our targets," highlights Liberty Verny. We are able to approach the development due to our architecture". This was well placed to develop a proprietary system that, before BazarChic, he used as the head of a major IT services company working with global banks, which he sold at the time. His wife knows sourcing and brands like the back of her hand as she worked for a stock clearance label, NGR, which still has four units in France, two in Paris (Rue de Clichy and Boulainvilliers ) and two outside the capital (Lyon and Grenoble). BazarChic announced a turnover of 50 million Euros for 2009 and hopes to soon pass the threshold of 80 million Euros. "But we are not over focused on sales, says Liberty Verny. BazarChic, unlike other sites, has been profitable since its first year." The company got capital from Le Figaro in 2007, that now owns 11% of capital funds and EPF Partners, 20%.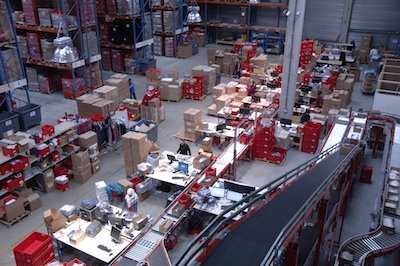 The BazarChic warehouse in Gennevilliers
Liberty Verny intends to open a second logistics centre in France in 2012. He also considers the opening of logistic centres within other countries that offer BazarChic by 2012. He does not however, unlike others, intend to offer stock clearance activity sites to others nor engage in a full price strategy. However, this does not exclude that such activities might be launched via an independent and separate company name.
Original by Jean-Paul Leroy. Translated by Rosie Hart
Copyright © 2022 FashionNetwork.com All rights reserved.