BC Partners buys Italy's Coin in $1.9 bln deal
May 9 - Private equity firm BC Partners agreed to buy Italian clothing retailer Gruppo Coin from rival PAI in a deal valuing the company at close to 1.3 billion euros including debt.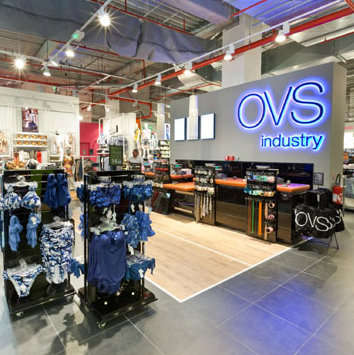 OVS Industry retail chain, owned by Gruppo Coin
The deal marks French private equity group PAI Partners's fourth disposal of the year but was below market expectations, sending shares in the Milan-listed retailer more than 9 percent lower.
BC Partners will acquire 78.7 percent of Coin, including PAI's majority stake, at 6.50 euros per share, well above the 2.17 euros PAI paid when it invested in 2005.
BC, which recently agreed to buy British mobile phone retailer Phones 4u, plans to bid for the rest of the shares at the same price, valuing Coin's equity at 930 million euros.
"Although the price is definitely not rich and might sound disappointing to minority shareholders, we believe that it would be difficult to find another buyer willing to offer a better price," said Deutsche Bank in a note.
The two parties had been in exclusive talks earlier this year but had failed to agree on a price. They remained in talks while the sellers waited to see if rival firms Carlyle and CVC would re-enter the fray.
The deal, including some 350 million euros in debt, values Coin at about 6.3 times last reported earnings before interest, tax, depreciation and amortisation (EBITDA) of 202.5 million euros, or 4.8 times target earnings of 266 million euros.
"Coin is ideally positioned to continue the growth pursued in the last six years," BC Partners Managing Director Nikos Stathopoulos said in the statement.
Under PAI's ownership, Coin has added four other Italian retailers, including UPIM last year, helping lift group sales 38 percent to 1.74 billion euros in the year through January.
PAI has been actively selling companies it owns and has this year agreed to dispose of its stake in French dairy group Yoplait, British tyre retailer Kwik Fit and French insurance brokerage CEP.
Along with Coin, the deals will allow it to return more than 2 billion euros to its investors, with more deals potentially in the pipeline. The firm is also considering a sale or listing of electrical and mechanical engineering group Spie.
Coin shares, which rose last year after talk emerged of the possible sale of PAI's stake, extended their gains on Friday on speculation of an imminent sale.
The deal is subject to antitrust approval and banks making funds available for the deal, the companies said.
By Simon Meads and Nigel Tutt
(Editing by Mike Nesbit and David Holmes)
© Thomson Reuters 2022 All rights reserved.