Beiersdorf profit surprises as Nivea focus pays off
FRANKFURT - German consumer goods group Beiersdorf (BEIG.DE) beat forecasts for 2011 profit, helped by a restructure that axed unprofitable lines like haircare and make-up and by heavy investment in its Nivea brand, including campaigns that featured singer Rihanna.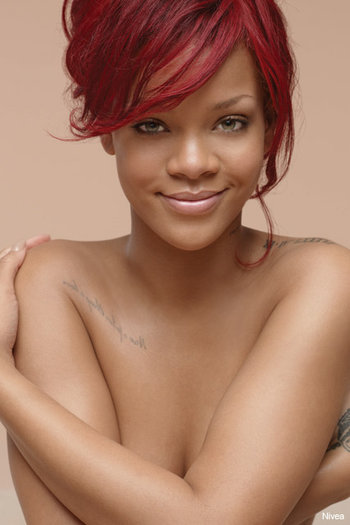 Rihanna for Nivea
After losing market share to rivals in recent years, Beiersdorf, which also makes La Prairie luxury skincare and Labello lip balm, refocused its product line last year.
That helped it to limit damage to profit margins at its core consumer products division.
The group said on Wednesday 2011 earnings before interest, tax and special items fell 7.6 percent to 646 million euros ($839 million), compared with a forecast for 624 million.
Its EBIT margin -- earnings as a percentage of revenue -- was 11.5 percent for the group and 11.4 percent for the consumer division. That compared with its target for 10-11 percent.
Shares in the group jumped as much as 5.8 percent to 46.50 euros, their highest level in over a year, and were up 4 percent at 4:31 a.m. ET against a flat blue-chip Dax index .GDAXI.
Beiersdorf is expected to give a 2012 outlook when it publishes full results on March 1.
Nomura analyst Guillaume Delmas said he expected consensus estimates for 2012 to move by 5 percent following the results.
Analysts forecast Beiersdorf to make sales of 5.86 billion euros and comparable EBIT of 699 million in 2012, according to the Reuters poll. That equates to an EBIT margin of 11.9 percent.
Other analysts cautioned that Beiersdorf was not out of the water yet and said the results had been flattered by postponing some of the restructuring charges.
"It remains uncertain whether Beiersdorf can restore the core Nivea brand to its former strength. In the light of this, we regard the valuation premium versus the peers as unjustified," DZ bank analyst Thomas Maul said in a note to clients.
Beiersdorf shares trade at 21.9 times estimated earnings according to Thomson Reuters Starmine, compared with a 13.4 multiple for Henkel (HNKG_p.DE), 17.7 for L'Oreal (OREP.PA) and 14.7 for Unilever (ULVR.L) (UNc.AS).
The share price has been held up by persistent takeover speculation, with Procter & Gamble (PG.N) and Colgate (CL.N) cited as possible bidders should the Herz family wish to sell.
Majority shareholders the Herz family, which also control coffee roaster and retailer Tchibo, have said they were invested in Beiersdorf for the long-term.
However, the surprise appointment in October of 48-year Stefan Heidenreich as chief executive was a sign they may be getting impatient. Heidenreich is due to take over in April.
Beiersdorf's 2011 sales matched forecasts at 5.63 billion euros while net profit fell 20 percent to 259 million euros.
($1 = 0.7704 euro)
(Reporting by Victoria Bryan; Editing by Dan Lalor and Jodie Ginsberg)
© Thomson Reuters 2023 All rights reserved.