Billabong takes over American sales site Swell.com
The Australian brand Billabong has taken over the leading American site dedicated to surfwear sales. This purchase aims to help the company control the manner in which its products are sold online.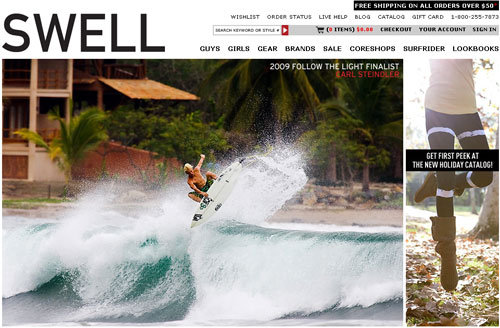 www.Swell.com
Swell.com offers products from more than 160 international brands, including Nike 6.0, O'Neill, Rip Curl, Vans and DC Shoes. With a relatively untapped online market, Billabong is counting on the notoriety of the site to capitalise on new ways of reaching young consumers. The brand is not expecting miraculous revenues however, stating that Swell.com will only constitute 1% of the groups revenue in the first instance.
Billabong is striving to return to its pre-recession sales figures, having seen a plunge in annual profit of more than 9% this summer. The brand has also raised some €166.9 million in funds, which was distributed within the group although exact details have not been released. The Australian press though is reporting that around 70% of the total was allocated to paying down the group's debt, which had risen to around €400 million.
By Jonathan Fulwell (Source: Matthieu Guinebault)
Copyright © 2023 FashionNetwork.com All rights reserved.