Brandalley: Sven Lung departs
The Brandalley management team has undergone a sort of revolution lately, which will surely be revealed to the teams of the (250 people) e-commerce company this week. The company's founder (founded: July 2005), Sven Lung, who is still a shareholder, as of a few days ago is no longer chairman of the board of directors or a member thereof.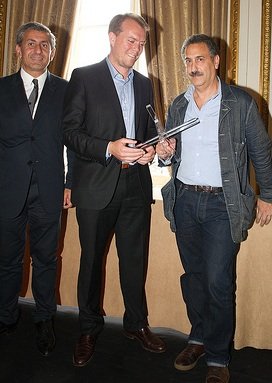 Sven Lung presents an award to Yves Bensimon at Elans de Mode 2010, at left - Didier Parakian (photo Pixel Formula)
His replacement is Antoine Leloup, Brandalley's General Director, who came to work alongside Sven Lung a few months after the site's launch, after serving 15 years at PPR. Antoine Leloup declined to comment pending the official announcement which will most probably take place soon. As for Sven Lung, he could not be reached.

The rumor of the removal of the company's CEO Sven Lung and his replacement by the Ecole Polytechnique and Ponts et Chaussées graduate, Antoine Leloup, had been circulating for several months. Without drawing any hasty conclusions, it as also he who had spoken on behalf of Brandalley during a panel discussion on e-commerce organized a few months ago by the French Federation of women's ready-to-wear. This is an unusual occurrence at Brandalley.
Sven Lung, is best known for his talent as a communicator and the site quickly earned the Brandalley image a nice reputation among the leading online high-end outlets in France. The latter has placed the site at No. 2 in terms of turnover – a ranking often contested by others, including Showroomprivé.com. The revenue, officially announced by Sven Lung, of 100 million euros in 2011 is difficult to verify since the accounts are not subject to registry filing.
Recently, a rumor had spread that Brandalley had been put on the market—at any rate for that shares of funds that had accompanied the company practically since its inception. For the record, Banexi has been around since November of 2005, while Caisse des Dépôts et A+ Finance - since April of 2007. This leaves little logical room for doubt that the goal of investors here is to attain the best possible scenario... Sven Lung, also recently confirmed a mandate given to Merrill Lynch to explore all forms of development, including looking abroad. And possibly consider an injection of funds. 
Thus ranking itself at No. 2 behind vente-privée.com, Brandalley has declared itself No. 1 in Great Britain where the site was launched in December of 2007, including as a shareholder of Robert Murdoch's Newscorp. 
In France, Brandalley found it difficult to mobilize good outlet products due to pressure from the leader, vente-privée.com.
Sven Lung, has also brought the facts before the Competition Authority and expected a response in the second quarter of 2012. To compensate for these difficulties in the outlet sphere, Brandalley added to its repertoire the sale of seasonal products, thus defining itself as more of a large online department store. These changes to Brandalley's management come as the ​​e-commerce sector of online high-end outlets was shaken in recent months by the halt in activity by EspaceMax.com and the resumption of Achatvip.com thanks to support from the ZannierGroup.com.
Copyright © 2023 FashionNetwork.com All rights reserved.