Bread & Butter reports slight increase in attendance
Bread & Butter, which closed its doors Friday, January 20th, has had a very Nordic edition, according to many of the exhibitors interviewed. "In two days, I saw the key companies and major French retailers," said a satisfied, Michael Guth, heaf of Sebago and Caterpillar. "I still feel that there are fewer buyers from southern Europe. I think the French were far fewer than before," said Vasseur of Stephen T. Freeman Porter, on the other hand.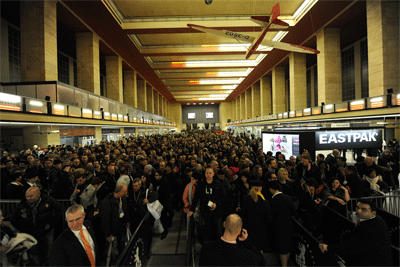 Bread & Butter January 2012 - Photo: B&B
As for the organizer it talks about this edition as the best one since its return to Berlin in July 2009 and confirmed in advance having mailed more than 92,000 tickets to trade visitors. Attendance over one year is officially up 3.5%, mostly thanks to buyers from Scandinavia, Austria and Switzerland. The number of French and British visitors remained unchanged. Buyers have certainly seen their regular suppliers attend, but have expressed some regret over the lack of new ones. "I could have gone around with my eyes closed, it was the same brands in the same places," one buyer said. "The work of brands is to impress and surprise us. And they are not all doing their job," lamented Jacques Vuillermet, who manages about twenty multi-brand stores and franchisees in the Southeast. "A lot of brands are talking about franchises. But this is a trade show for multi-brands and not a gathering of franchisees," said Philippe Commault of Kaki Crazy.

The show, which features denim, street and urban fashion has created three new sections precisely in order to attract collections by smaller brands. In Berlin, moreover, visitors can sometimes spend too much time in the shuttles and public transportation. Faced with new events, such as Show & Order, Ethical Fashion Show or The Gallery, Karl Heinz-Müller, co-founder of Bread & Butter, expresses the same concern - that the visitor does not always know where to find what he is looking for. " Berlin is not feasible in three days. The events should be more spread out, for example from Tuesday to Saturday, 5 days. Berlin needs a real fashion week," said Heinz-Müller.
Copyright © 2023 FashionNetwork.com All rights reserved.