Bulgari wants to double handbags business
By Astrid Wendlandt
BASEL, March 18 (Reuters) - Italy's Bulgari, (BULG.MI) best known for its jewellery, watches and perfumes, aims to double the size of its accessories business over the next three to five years, its chief executive told Reuters at an industry fair.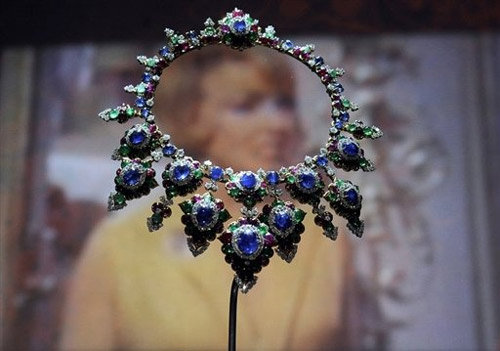 A vintage Bulgari necklace - Photo: Filippo Monteforte/AFP
Bulgari launched a global advertising campaign in January featuring actress Julianne Moore lounging naked on a sofa, adorned with large emerald earrings, two white parrots and a camel-colour handbag.
"We are not known for accessories; people think about many other brands than Bulgari for a bag...We want to change that," Francesco Trapani said on Thursday 18 March at Baselworld, the world's biggest watch and jewellery fair.
Trapani said handbags, small leather goods and silks currently made up 7 percent to 8 percent of Bulgari's total sales and the company wished to lift that figure to about 15 percent in the medium term, which he described as three to five years.
Traditionally, margins are larger in the leather goods business than in jewellery and watchmaking and overall "soft" leather goods are more resistant to downturns than "hard" luxury goods such as jewellery.
More than half of Bulgari's current business is watches and jewellery.
Trapani's comments came after the company on Monday 15 March missed market forecasts by posting a bigger-than-expected fourth-quarter loss and lower gross margins. [nLDE62E0LU]
Asked if Bulgari, hit hard by the spending downturn, was considering a de-listing, Trapani said: "We are not interested. We think being listed in an advantage."
He said the 1995 flotation gave the company the resources to expand worldwide and that if it went private again, it would have to take on too much debt.
FIRST CELEBRITY
Trapani said the ad campaign with Moore marked the first time Bulgari had used a celebrity for a product other than perfume.
"Our strategy is a table with four legs, jewellery, watches, perfume and accessories. Today, we have a table with three and a half legs. So we need to grow accessories much faster," Trapani said.
The company's advertising and promotion budget, however, would not rise significantly this year. If it was 10.3 percent of sales last year, it would only come closer to 11 percent in 2010, Trapani said.
Trapani said Bulgari had recently signed a contract with Matthew Williamson, a British designer, to produce a small collection of bags that would be presented during fashion week in Milan in September.
He said the company planned to stay in bags and not get into shoes. Bulgari bags were made in Italy, in-house and by sub-suppliers.
Bulgari shares closed barely changed on Thursday 18 March at 5.72 euros.
(Editing by Leslie Gevirtz)
(([email protected];+331 4949 5440; Reuters Messaging : [email protected])) Keywords: BASELWORLD BULGARI/ .
(C) Reuters 2010. All rights reserved. Republication or redistribution ofReuters content, including by caching, framing or similar means, is expresslyprohibited without the prior written consent of Reuters. Reuters and the Reuterssphere logo are registered trademarks and trademarks of the Reuters group ofcompanies around the world.nN18249311
© Thomson Reuters 2022 All rights reserved.