Burberry, McQueen mastery defy "quirky London" label
LONDON - Burberry and McQ by Alexander McQueen turned up the glamour at London Fashion Week with a pair of catwalk masterclasses late Monday that silenced talk of the city as merely the "capital of quirk."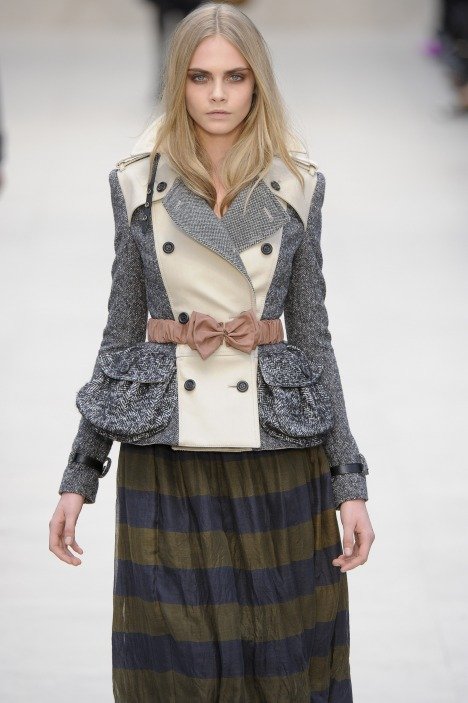 Burberry Prorsum - AW 2012/13 / Photo: Pixel Formula
Although, a cradle of talent which has produced such stars as Stella McCartney, McQueen, Vivienne Westwood and Paul Smith, London's place on the fashion map has always been squeezed between New York and its European cousins in Paris and Milan. Mostly, it was considered a place to find emerging designers.
"We used to come here and think it's all going to be eccentric and street chic and actually it's incredibly grown up, polished and sexy, glamorous clothes so it's a global stage now -- it's wonderful," U.S. Vogue Editor-in-Chief Anna Wintour told Reuters.
Burberry creative director Christopher Bailey combined country and town styles for an elegant collection which dazzled front row celebrities including Kate Bosworth, Rosie Huntington-Whiteley and British Prime Minister's wife Samantha Cameron.
Cropped tailored bomber jackets, draped hem blanket skirts and sculptural dress shirts featured prominently in his autumn/winter 2012 collection, as did pencil skirts with large bellow pockets, double-breasted jackets and brogue lace-up ankle boots.
"It's always such a beautiful collection and I adore Christopher - he's really one of a kind," Bosworth said, adding that she loved Bailey's impeccable cuts.
In the grand finale a clap of thunder sounded before water emulating rain gushed down the sides of the transparent marquee in which the event was hosted.
Burberry is known for its trademark raincoats and Bailey said he loved to celebrate rain.
"I quite like taking all these clichés and these very familiar things and kind of playing with them a little bit because behind the cliché they usually started with something more profound and I like the idea of that," he said backstage after his show.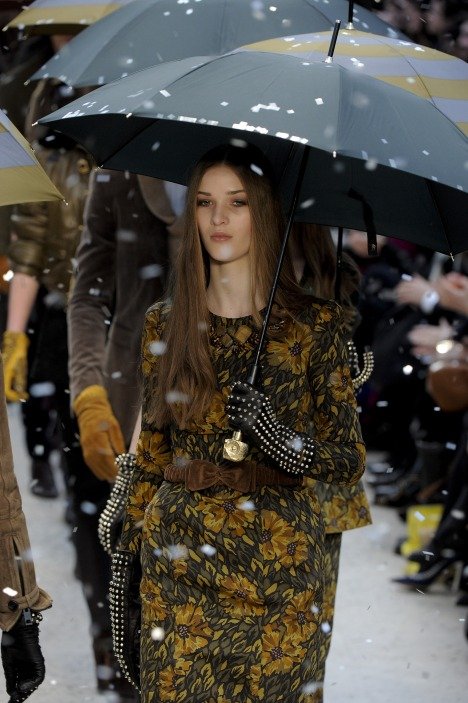 Burberry Prorsum - AW 2012/13 / Photo: Pixel Formula
As silver paper raindrops fell from the ceiling, models sashayed down the catwalk carrying brightly coloured umbrellas, under which an array of khaki, dark camel and burgundy trench coats was visible, some with panelling or tiered peplum detail.
"I think Burberry is a quintessentially British brand that Christopher has totally reinvented and made young and hip and fun and made an incredible global success," Wintour said.
BRIDES AND THE DEVIL
Sarah Burton, the creative director of McQ who designed the wedding dress Kate Middleton wore for her marriage to Prince William last April, also notched up the drama at her show in a former post sorting office in central London.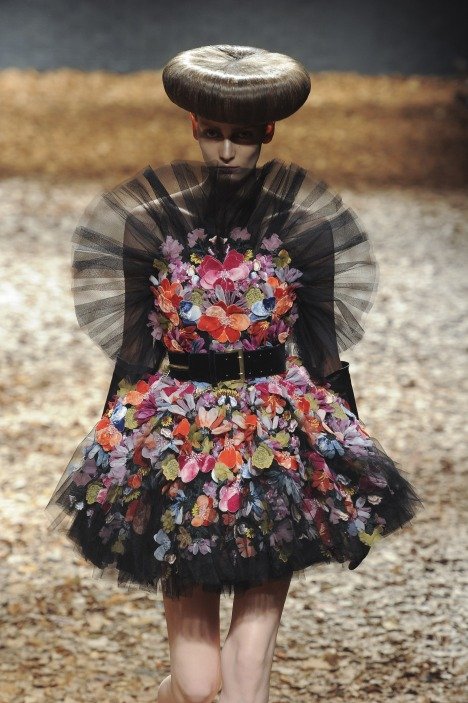 McQ Alexander McQueen - AW 2012/13 / Photo: Pixel Formula
She initially took her cue from military uniforms, sending girls in khaki belted coats with metal buttons and large pockets down a catwalk carpeted with autumnal brown leaves before revealing more glamorous, playful dresses featuring rainbow colours on layered black tulle.
Dressed in a belted ivory floor-length tulle gown with decorated appliquéd velvet flowers, model Kristen McMenamy found herself bathed in white light as she looked up to the ceiling from where crisp leaves floated down around her.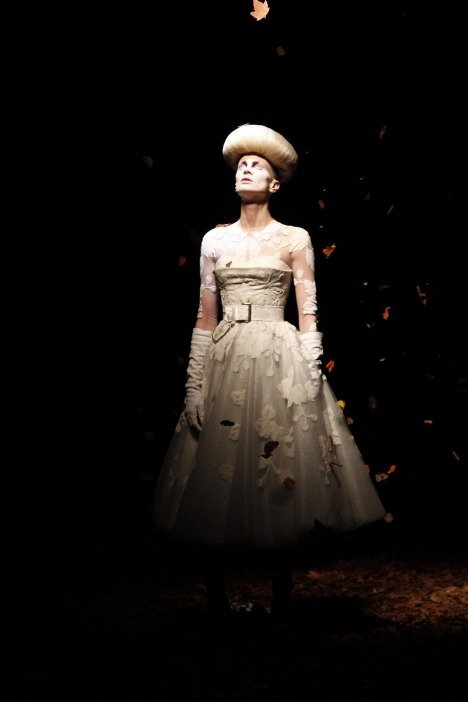 McQ Alexander McQueen - AW 2012/13 / Photo: Pixel Formula
After feeling around on the floor, she found a white rope and pulled herself along it toward a forest which suddenly appeared at the end of the catwalk while a sudden burst of red light illuminated a little wooden cabin nestled among the trees.
"It's actually a club where I sign my soul away to the devil... I signed a little card and that's what it symbolizes," McMenamy, whose dress was reminiscent of a wedding gown, told Reuters after the show.
"It's quite ironic because my whole upbringing was Roman Catholic... and I thought if I become a nun I'm saved and if I become a model I go to hell."
Actress Salma Hayek said she was very impressed by the show and had her eye on one of the black and wine-coloured coats Burton sent down the catwalk, as well as the floral dresses.
"This is my first time in London and it's one of the most beautiful fashion shows I've ever seen," Hayek said after the show.
(Reporting by Michelle Martin; additional reporting by Cindy Martin and Nickie Omer, editing by Paul Casciato)
© Thomson Reuters 2023 All rights reserved.