Callaway Golf, a new range from Perry Ellis International
Callaway Golf have signed a licensing agreement with Perry Ellis International. The American group will be charged with the design; manufacture and distribution of off-the-peg sportswear for Callaway Golf in the USA, Canada, Latin America and the Caribbean.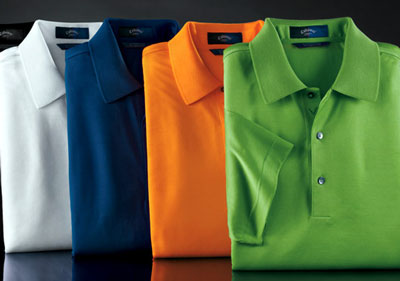 Polos - Callaway Collection
"We are delighted to have found a partner capable of help us to assert Callaway's position as a full 'Lifestyle' brand", explained George Fellows, president and director-general of Callaway Golf. He continued, "Perry Ellis Internation is recognized throughout the world as one of the leaders in material, design and distribution of off-the-peg clothes and accessories. We hope that this partnership will be long and beneficial to both parties."
The results of this partnership will be visible from Spring 2010. In the meantime, Callaway Golf will continue to sell its products that were manufactured by its previous licensed partner.
Callaway Golf belongs to the Callaway Golf Company, which makes and sells - in more than 110 countries – clubs, balls and golf accessories not only for Callaway Golf but also for Odyssey and Ben Hogan.
"This collaboration will allow the two groups to combine their strength, allowing Callaway to reinforce its presence in the off-the-peg clothing market is a great opportunity for us," opined Oscar Feldenkreis, president of Perry Ellis International.
By Jonathan Fulwell (Source: Sarah Ahssen)
Copyright © 2023 FashionNetwork.com All rights reserved.