Carrefour considers split into three units
Jan 31 - Shareholders of French retail group Carrefour are considering a break-up of the company into three listed units to enhance the value of their investment, Le Figaro reported on Monday.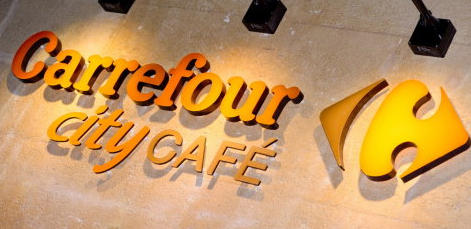 Carrefour City Café in Bordeaux, France
A provisional agreement could be sealed during a board meeting scheduled for March 2, the daily newspaper wrote, without citing sources.
Carrefour shares were up 2.9 percent early on Monday in a falling French market.
"Board members, advised by BNP Paribas, are working on a simultaneous spin-off of Dia (discount) and Carrefour Property (real estate), which would both be listed in Paris," Le Figaro said.
A Carrefour spokesman declined comment.
The group would need to define the level of its future holdings as Carrefour's shareholders favour a majority position in Dia, while the management wants to hold to more than 50 percent of Carrefour Property, Le Figaro said.
Carrefour Property is a holding created in 2004, which owns most of the stores and sites of the retailer in five countries.
A potential break-up of Carrefour is part of a broader bid by the group to return money to shareholders and improve profits at the world's second largest retailer by sales after two profit warnings last year.
Chief Executive Lars Olofsson, a former Nestle executive, took over Carrefour in 2009 with a mandate from shareholders Colony Capital and Groupe Arnault to turn around the underperforming company.
Carrefour unveiled a 1.5 billion euro ($2 billion) revamp of its European hypermarkets last September as part of a turnaround plan it hopes will more than double profits by 2015.
The company, which said earlier this month it would deliver cost reductions of 520 million euros in 2010, above a 500 million initial target, will update investors on its cost reduction goals when it reports 2010 earnings on March 3.
By Matthias Blamont
(Editing by Will Waterman)
© Thomson Reuters 2023 All rights reserved.