Carrefour names new Europe boss to help lift sales
Carrefour has named in-house retail veteran Noel Prioux as executive director for Europe to help revamp its European hypermarkets and boost sales, Europe's largest retailer said on Wednesday.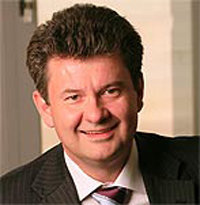 Noel Prioux
Carrefour is in the midst of a turnaround plan under new management after two profit warnings last year.
Prioux, 51, who also joins Carrefour's executive board, will start his new job on May 1.
He replaces Vicente Trius, who left Carrefour in February to head Canadian retailer Loblaw Companies.
Prioux will be responsible for Belgium, Spain, Italy, Poland, Greece, Cyprus and Romania and will oversee the roll-out of the Carrefour Planet hypermarket revamp in the G5 countries outside France.
Prioux, who joined Carrefour in 1984, successively served as Executive Director Turkey, Director of hypermarkets for France, Executive Director Colombia and Executive Director South Asia.
Since 2008, he was Executive Director Spain.

(Reporting by Dominique Vidalon; Editing by Erica Billingham
)
© Thomson Reuters 2022 All rights reserved.