Carrefour says Europe tough as defends Dia spin off
May 17 - Carrefour, the world's second-biggest retailer, said western European markets remained tough, though its new hypermarket stores were performing well, as it laid out its plans to spin-off discount chain Dia.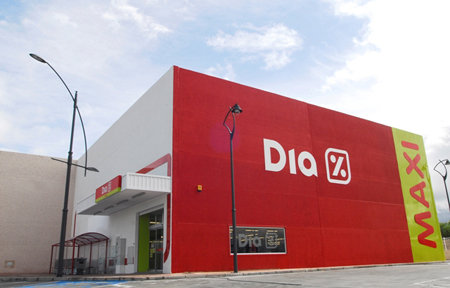 Dia (Carrefour Group)
Europe's biggest retailer launched a restructuring drive in 2009 and a new blueprint for its hypermarkets last year as it battled to reverse years of underperformance in its main western European markets.
But it was blown off course by profit warnings linked to its Brazilian business, faltering trading in its home French market and mixed results from its new Carrefour Planet hypermarkets.
In a bid to mollify its largest shareholders, French luxury goods tycoon Bernard Arnault and U.S. private equity firm Colony Capital, it came up with plans in March to spin-off Dia and 25 percent of its property business to generate an expected 4 billion euros ($5.7 billion) of special dividends.
But the property spin off was opposed by some other investors and, amid talk of boardroom divisions as well, the group shelved the property listing earlier this month.
At the same time, it fired the head of its French business, a key figure in its turnaround plan, saying the business there was lagging.
Analysts and investors are looking for explanations on Tuesday during a day of presentations on the Dia spin off.
"Recent events at Carrefour, including a series of profit warnings, accounting issues in Brazil, executive departures, and a U-turn on plans to partially spin off property assets, raise several critical questions about strategy, management and governance," Bernstein analysts said in a recent research note.
Carrefour reiterated on Tuesday that big increases in raw material prices were impacting negotiations with suppliers, and economic conditions were difficult in western Europe, although there were some encouraging signs in Belgium and Spain.
Growth in Asia and Latin America remained strong, and the results from Carrefour Planet "very encouraging," it added.
As a result, it confirmed its goal to grow sales and operating profit by an unspecified amount this year.
Carrefour shares have lagged the STOXX Europe 600 retail index .SXRP by 6 percent this year. At 0705 GMT, they were up 0.1 percent at 30.3 euros.
PLANS FOR DIA

Carrefour, world No.2 behind U.S. group Wal-Mart (WMT.N), defended the plan to list Dia, which it believes will receive more attention, and so a higher valuation, outside the group.
It also reiterated it intends to spin off property assets in due course.
"Carrefour will thus be a leaner, stronger and more focused and more dynamic company," chief executive Lars Olofsson said.
"Carrefour's shareholders should benefit directly from Carrefour's future growth, the value created by Carrefour Property and Dia's upside potential."
Olofsson told reporters the group had received approaches from potential buyers for Dia, but nothing more had happened.
He was confident shareholders would back the spin off.
Finance chief Pierre Bouchut said he expected Dia to have an enterprise value -- equity plus debt -- of over 4 billion euros.
Last Friday, Carrefour published the listing prospectus for Dia and its key targets ahead of a July 5 listing, which requires approval from shareholders on June 21.
Dia plans to accelerate store openings and expansion in emerging markets over the next three years. With turnover of nearly 10 billion euros, Dia is the world's third largest so-called "hard discount" group behind Aldi and Lidl.

By Dominique Vidalon
(Additional reporting by James Regan in Paris and Mark Potter in London)
(Editing by Caroline Jacobs and Hans Peters)
© Thomson Reuters 2022 All rights reserved.