Carrefour seen making offer to buy Guyenne
PARIS - French retailer Carrefour was expected to make an offer to buy its largest domestic franchisee after shares in Guyenne et Gascogne were suspended from trading on Monday.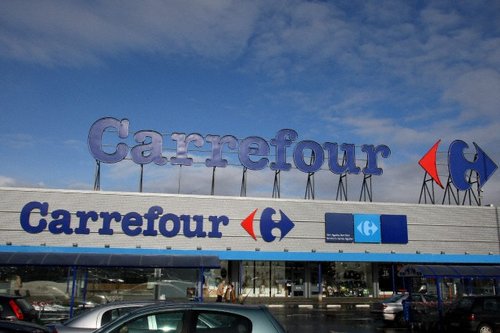 Photo: Corbis
A statement is expected to be published after the market closes, a Guyenne Gascogne spokeswoman said. Carrefour declined to comment.
The two sides said on Thursday that discussions were under way for Carrefour to buy Guyenne et Gascogne as key shareholder the Beau family looks to sell out and the world No.2 retailer seeks to boost its position in its home market.
"This suspension tends to confirm media reports that Carrefour will buy Guyenne et Gascogne and will partly finance the deal by selling Altis," one Paris-based analyst said, referring to a venture between Carrefour and Spain's Eroski.
In view of its limited leeway and of a 40 percent plunge in its share price following repeated profit warnings and strategy U-turns, analysts say Carrefour may have difficulty engineering an all-cash or an all-share transaction.
Carrefour may seek to fund part of the deal via the sale of its stake in franchisee Altis, an industry source told Reuters last week.
The sale of Altis could bring in a maximum of 250 million euros ($334.13 million), while Guyenne et Gascogne would be worth around 660 million, based on an estimated takeover price of around 100 euros a share, another analyst said.
"They should reach an agreement," the analyst said. "It would be a strategic failure for Carrefour if they didn't succeed."
Analysts have said that an acquisition of Guyenne Gascogne was unlikely to create additional synergies for Carrefour and its timing was far from ideal for the French retailer, which is facing many headwinds in its core domestic market.
But reaching a deal is of strategic importance to Carrefour as it can hardly afford to lose its main franchisee to a rival.
Carrefour earns some 40 percent of its revenue in France, where it has faced tough competition from Leclerc, Casino and Auchan supermarkets.
Guyenne et Gascogne has said that any agreed deal would exclude the impact on its shares from press reports last week about a potential Carrefour takeover.
Guyenne et Gascogne shares closed at 87.60 euros on Friday, valuing the company at some 582 million euros. By 1300 GMT, Carrefour shares were down 2.05 percent at 18.14 euros.
Founded in 1913, Guyenne et Gascogne had consolidated net sales of 533 million euros last year.
($1 = 0.7482 euros)
(Reporting by Juliette Rouillon; Editing by Jon Loades-Carter)
© Thomson Reuters 2023 All rights reserved.