Christian Lacroix and Falic Fashion Group, divorce?
Nothing has yet been confirmed by the parties in question, but the rumours are spreading, notably since an article appeared in the French 'Journal du Dimanche' last weekend. Christian Lacroix could be changing hands for the third time in four years.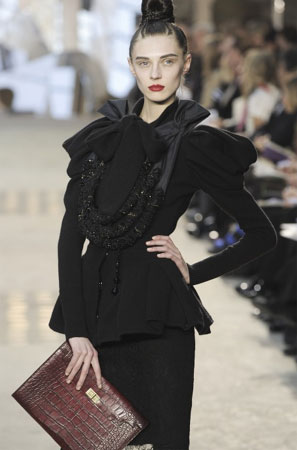 Christian Lacroix collection Autumn-Winter 2009/2010
Photo : PixelFormula
Founded in 1986 by LVMH and the designer from Arlés, then at Patou, the brand was taken over in 2005 by the heavyweight airport retailer Falic Fashion Group. Now, Falic could be in negotiations with investors, believed to be Swiss.
Alternately dreamlike, outlandish or extravagant with his embroidery and patterns, or more sober – as he stated this year, "a bit of simplicity doesn't hurt" – Chrisitan Lacroix has mastered the art of inviting us to dream. But creative energy and profits do not always go together.
The task of marrying profits and design has caused problems, with the brand finding it difficult to conform to the rules of the group and its shareholders. This is a divergence of opinion which caused the split with the French luxury giant LVMH and could be the cause of the next break-up.
With repeat collections that span the spectrum of styles (with La Poste, Gola, Petit Larousse, Evian, La Redoute, TGV, Kartell and others), this gem of French design could rebound onto the scene with a new partner, one that could marry creative design and market reality.

By Jonathan Fulwell (Source: Julie Mangaud)
Copyright © 2023 FashionNetwork.com All rights reserved.