Club Monaco plans to open 100 stores in Europe
Among the many US lifestyle brands which have been turning their attention to the European market, Club Monaco is certainly up there. Founded in 1985 in Canada, the brand was acquired by the Polo Ralph Lauren Corporation in 1999 and will this be able to benefit from the support of the powerful American group.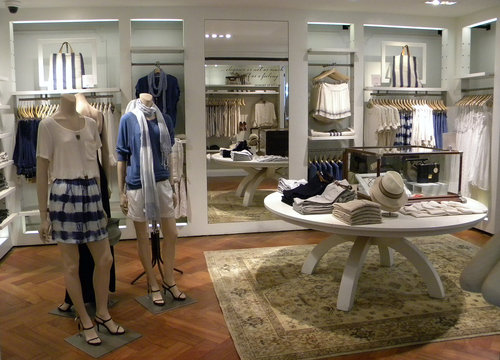 Club Monaco store
Club Monaco recently announced its wish to quickly establish its collections for men and women in Europe. The brand already took a first step into the UK with the launch of a corner at one of Browns' stores in London around 6 months ago. Pleased with its performance, Club Monaco now has its eyes on the European market. "We can bring a different kind of fashion into the continent", said Beverly Hill, vice-president of Club Monaco and in charge of the brand's European development. "Europeans appreciate the American style".
To allow them to discover its urban, New-York inspired style which makes use of different materials such as cashmere, silk and leather, Club Monaco first plans to launch corners at department stores across Europe this autumn. It will arrive at the Galeries Lafayette in Paris, Breuninger in Stuttgart and also at Globus in Geneva and Zurich. "As of Spring 2012, we are going to expand our network even further with the opening of more corners in European department stores, as well as the launch of our first franchise store with our Norwegian partner Tatler", explained Beverly Hill. "We are looking to open standalone stores in cities like Paris and London, but our expansion strategy is centred on large-scale sales, partnerships and franchise. We are interested in making partners in order to be present in town centres, such as inside high-quality shopping centres."
Club Monaco thus explained that it plans to develop its franchise business in Scandinavia, Germany, France, the United Kingdom, Spain and Portugal. By building a franchise network in Europe, the brand will keep its collections but will have no option but to add an additional cost to its prices. "If we do a benchmark, we will be in line with brands like Sandro, Maje and Comptoir des Cotonniers", said the brand's vice-president. "We are going to offer men's and women's lines at corners inside department stores. As for our own boutiques, we could begin by opening some solely dedicated to womenswear before doing the same for men."
In fact, 65% of Club Monaco's turnover comes from sales of it women's line. It should also be launching an e-commerce website in Spring next year. In Europe, the brand expects to open around 100 stores and 300 corners in the next 3 to 5 years.
Copyright © 2023 FashionNetwork.com All rights reserved.