Coach focuses on priciest bags again
The fanciest Coach handbags priced over $400 are finding more buyers, allowing the company to move upmarket after introducing more lower-priced bags in the wake of the 2008 financial crisis.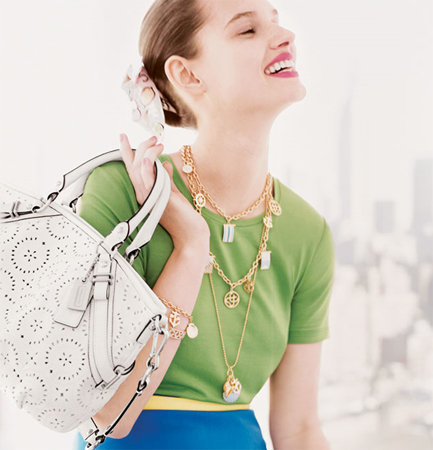 Coach handbag
The change means Coach Inc can appeal to luxury shoppers who are spending more freely now. Coach's pricing power allows it to offset rising production costs that dent margins.
At the same time, the retailer and manufacturer of leather goods and accessories will not raise prices despite higher costs for leather and labor in China, bucking an industry trend.
"We're not contemplating raising prices in the future," Coach CEO Lew Frankfort said at the Reuters Global Luxury & Fashion Summit on Monday. "Our customers are looking for excellent value."
The shift to fancier bags effectively raises Coach's average bag price to about $300, from about $288 during the recession after it launched the lower-priced Poppy line.
"Customers have embraced them (bags above $400) and are buying them at increased rates," Frankfort said.
Several executives for retailers such as Gap Inc have said in recent weeks that they planned to raise prices. But Coach is diversifying production sites, substituting materials and manufacturing more efficiently to offset rising raw material and labor costs in China, where it makes 85 percent of what it sells.
In April, when Coach reported its fiscal third-quarter results, Chief Financial Officer Mike Devine said bags over $400 accounted for about 18 percent of sales, up from 10 percent a year earlier. He said the growth was fueled by a fashion trend favoring leather bags over ones made of fabric.
Frankfort said that despite gains in luxury spending, consumers are still seeking bargains, benefiting his company which offers more affordable products than higher-end rivals such as LVMH Moet Hennessy Louis Vuitton SA.
"Our positioning as a democratized luxury brand has never been more in vogue than it is today," Frankfort said.
(Reporting by Phil Wahba and Martinne Geller; Editing by Matthew Lewis and Richard Chang)
© Thomson Reuters 2021 All rights reserved.