Coco Chanel joins French biopic vogue
PARIS, Dec 5 (Reuters Life!) - Coco Chanel, creator of the little black dress and byword for Parisian chic, joins a growing roster of French cultural figures to be celebrated onscreen with two films of her life due out next year.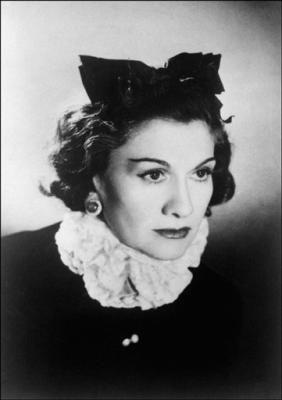 Coco Chanel, Paris - Photo Paris 1944 Photo : AFP
Audrey Tautou, star of "Amelie" and Anna Mouglalis, who played France's ultimate intellectual heroine Simone de Beauvoir in a separate biopic, will embody the elegant Chanel, whose fortune began in 1912 with a simple Paris shop.
"Coco Chanel had to fight to succeed," Mouglalis told reporters this week. "She was capable of extreme meanness and great generosity, of being extremely hard and very sweet, she was black and white."
The producers are hoping to repeat the success of "La Vie en Rose", the 2007 film that gave Marion Cotillard her Oscar-winning role as the legendary chanteuse Edith Piaf.
Cinema and television portrayals of famous French people have mushroomed since, mirroring the recent Hollywood trend that has produced film lives ranging from singing legend Johnny Cash to President George W. Bush.
Francoise Sagan, author of the 1954 best-seller "Bonjour Tristesse", philosopher-lovers Beauvoir and Jean-Paul Sartre or Albert Spaggiari, an impish bank robber who pulled off one of France's most spectacular heists have all had the treatment.
Gabrielle "Coco" Chanel, whose legacy includes the simple black dresses that have graced a million cocktail parties since she unveiled the original in 1926, seems a natural addition.
Raised an orphan, she allied an iron will, a tart tongue and a flair for design to the modernist spirit of the 1920s and built one of the world's biggest fashion houses.
"A woman without a perfume is a woman without a future," remarked the woman whose Chanel Number 5 became the world's top selling scent.
Both "Coco avant Chanel" (Coco before Chanel), starring Tautou and "Coco et Stravinsky", starring Mouglalis, will focus on the designer's early career before she became a living symbol of the fashion industry.
The two films are currently in production and are expected to reach the screen next year.
Karl Lagerfeld, the exuberant German who became chief designer of the firm in 1983 kicked off the procession with a short film he directed himself and presented this week to a select audience in a small Paris theatre this week.
In "Coco Chanel 1913-1923", a silent film shot in black and white, he shows her at the beginning of her long career with the two men who shared her life at the time, "Boy" Capel and the Russian Grand Duke Dmitry.
Lagerfeld, who earlier this year designed a special five euro coin with a portrait of Chanel, described the film as "a very light, very amusing little bit of sparkle" but said he did not want to leave her life to others.
"I wanted to make this film because there are so many films about Chanel, I thought it would be good for Chanel to make one too," he told reporters.
By Elizabeth Pineau
(Writing by James Mackenzie, editing by Paul Casciato)
© Thomson Reuters 2023 All rights reserved.