Copious revamps social commerce service with a new twist
Pinterest has yet to provide many details about how it intends to make money from its fast-growing image-sharing social service.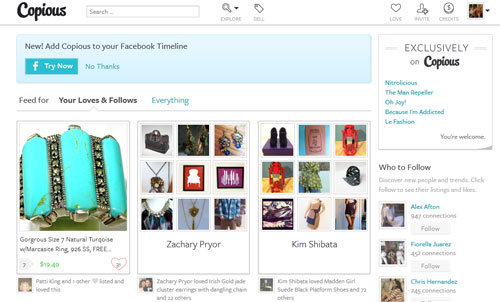 Copious
But that's not stopping others from trying to capitalize on the online service's rich catalog of product images.
Copious, a social commerce start-up, launched a new version of its website on Monday that lets consumers buy many of the bags, shoes and other fashion accessories that get shared by Pinterest's millions of users every day.
Pinterest is just one of several online social media services, including Twitter and Facebook, that the Copious site connects to, allowing consumers to create a personalized online storefront that changes as frequently as your Facebook newsfeed.
The idea is to create a shopping experience based around people you follow and their actions, rather than around static categories of merchandise. Instead of browsing pre-set selections of shoes or sweaters, a visitor to Copious sees an ever-changing mix of items, based upon whatever the friends and bloggers they follow are sharing or commenting on at that moment.
The result is a shopping experience that's constantly morphing, supposedly giving consumers a reason to come keep coming back.
"Conversation is always ongoing. That's why people go back to Facebook on a daily basis, but don't necessarily go back to Amazon.com on a daily basis," said Jim Rose, the co-founder and CEO of Copious.
Mixing social networking and e-commerce is a business opportunity that companies have been chasing for a couple of years, using a variety of approaches and with varying degrees of success. Big retailers such as J.C. Penney and Nordstrom experimented with storefronts on Facebook, but shuttered them after the initiatives generated few sales.
Meanwhile, a new generation of start-ups such as Fab.com, Beachmint and Oodle are all pushing their own visions for solving the social-commerce puzzle.
Copious, which has raised $2.65 million in funding, is backed by some high-profile angel investors including former Facebook executives Tim Kendall (now at Pinterest) and Chamath Palihaptiya, as well as by VC firms including Google Ventures. But Rose says the company plans to raise more money this year.
"Right now we're trying to paint on a big canvas with a very small brush," said Rose.
© Thomson Reuters 2023 All rights reserved.